Prairie wireworms Adapted from: Agriculture & Agri-Food Canada Weekly Science Story Authors:Lethbridge Research and Development Centre: Dr. Haley Catton, Dr. Timothy Schwinghamer, David Shack, Cheryl Chelle (retired)Agassiz Research and Development Centre: Dr. Wim van Herk, Dr. Bob Vernon (retired), Terisha Mitchell, Mika SevcikSaskatoon Research and Development Centre: Erl Svendsen Wireworms, the larvae of click beetles, are a group of destructive soil-dwelling insects that have challenged crop production across Canada for decades. They feed on the seeds, roots or lower stems of almost all field crops including cereals and pulses, causing serious crop thinning and yield loss. Wireworms were found at the base of wheat plants in the same damaged field in southern Alberta. Photo credit: Haley Catton, AAFC-Lethbridge Surveys from the 1920s in Saskatchewan found damage in over 1,000 wheat fields and at least $46.7M in annual losses (in 2021 dollars). Nearly 100 years later, the Prairie wireworm problem continues, with severely infested fields requiring re-seeding. Some farmers are frustrated when this long-lived pest exacts its toll on their crop year after year, but others are not even sure if the wireworm species they have warrants control. To help farmers in the west "know their enemy" and manage these pests, Agriculture and Agri-Food Canada (AAFC) researchers recently published a new handbook - Guide to Pest Wireworms in Canadian Prairie Field Crop Production. Available in English and French This comprehensive, easy-to-use guide assesses the risks to crops posed by Prairie wireworms and provides life histories and high-resolution photographs of the key pest species. It discusses monitoring approaches and integrated pest management strategies, and provides an overview of the various cultural, biological and chemical management options and research needs. The guide incorporates AAFC Prairie wireworm research from 1922 to present day, including the large-scale 16-year survey of Prairie pest wireworm species published this year. Although eastern Canada has different wireworm species than the Prairies, the monitoring and management methods in this guide apply in all provinces. Adult (beetle) and larval (wireworm) forms of 3 of the most important pests on the Canadian Prairies. From left to right: Hypnoidus bicolor (no common name), Selatosomus aeripennis destructor (Prairie grain wireworm), Aeolus mellillus (flat wireworm). Photo credit: Haley Catton, AAFC-Lethbridge Prairie wireworms present challenges Wireworms are difficult to monitor and control. These pests spend most of their lives (up to 11 years) as larvae underground, moving up and down the soil profile as seasons and moisture conditions change. Unfortunately, insecticide seed treatments used in the recent past protected crops from damage but did not significantly reduce wireworm populations ≥ fortunately newer insecticides are promising. AAFC has been and continues to be at the forefront of wireworm research in Canada. As wireworms are often the only reason growers use treated seed in cereals on the Prairies, this guide will increase understanding of these pests and give options to help save costs and reduce unnecessary insecticide use. Further research is underway to develop easier monitoring and alternative control methods, and help farmers decide when insecticide seed treatments for wireworms are truly necessary in their fields. External collaborators: Dr. Julien Saguez: CÉROM (Centre de recherche sur les grains), Saint-Mathieu-de-Beloeil, QCTed Labun: Syngenta Crop Protection (Canada), Calgary, AB For more information:Catton H, van Herk W, Saguez J and Svendsen E (2021)Guide to pest wireworms in Canadian Prairie field crop production. Agriculture and Agri-Food Canada, Lethbridge, Alberta, Canada Free hardcover copies of the Guide to Pest Wireworms in Canadian Prairie Field Crop Production are available by emailing Dr. Haley Catton. Distribution of Pest Wireworm (Coleoptera: Elateridae) Species in Alberta, Saskatchewan, and Manitoba (Canada). van Herk, W.G., Vernon, R.S., Labun, T.J., Sevcik, M.H. and Schwinghamer, T.D., 2021 Environmental Entomology, 50(3), pp.663-672
Prairie wireworms Adapted from: Agriculture & Agri-Food Canada Weekly Science Story
Authors:
Lethbridge Research and Development Centre: Dr. Haley Catton, Dr. Timothy Schwinghamer, David Shack, Cheryl Chelle (retired)
Agassiz Research and Development Centre: Dr. Wim van Herk, Dr. Bob Vernon (retired), Terisha Mitchell, Mika Sevcik
Saskatoon Research and Development Centre: Erl Svendsen
Wireworms, the larvae of click beetles, are a group of destructive soil-dwelling insects that have challenged crop production across Canada for decades. They feed on the seeds, roots or lower stems of almost all field crops including cereals and pulses, causing serious crop thinning and yield loss.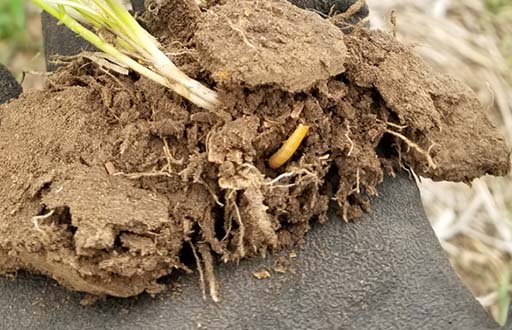 Surveys from the 1920s in Saskatchewan found damage in over 1,000 wheat fields and at least $46.7M in annual losses (in 2021 dollars). Nearly 100 years later, the Prairie wireworm problem continues, with severely infested fields requiring re-seeding. Some farmers are frustrated when this long-lived pest exacts its toll on their crop year after year, but others are not even sure if the wireworm species they have warrants control. To help farmers in the west "know their enemy" and manage these pests, Agriculture and Agri-Food Canada (AAFC) researchers recently published a new handbook - Guide to Pest Wireworms in Canadian Prairie Field Crop Production.
Available in English and French
This comprehensive, easy-to-use guide assesses the risks to crops posed by Prairie wireworms and provides life histories and high-resolution photographs of the key pest species. It discusses monitoring approaches and integrated pest management strategies, and provides an overview of the various cultural, biological and chemical management options and research needs.
The guide incorporates AAFC Prairie wireworm research from 1922 to present day, including the large-scale 16-year survey of Prairie pest wireworm species published this year. Although eastern Canada has different wireworm species than the Prairies, the monitoring and management methods in this guide apply in all provinces.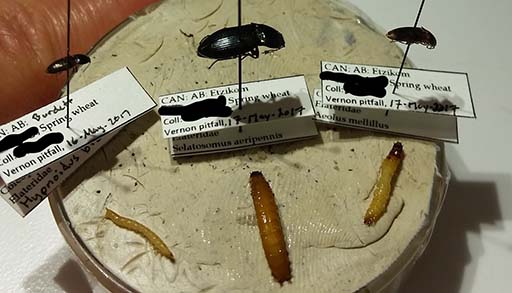 Prairie wireworms present challenges
Wireworms are difficult to monitor and control. These pests spend most of their lives (up to 11 years) as larvae underground, moving up and down the soil profile as seasons and moisture conditions change. Unfortunately, insecticide seed treatments used in the recent past protected crops from damage but did not significantly reduce wireworm populations ≥ fortunately newer insecticides are promising.
AAFC has been and continues to be at the forefront of wireworm research in Canada. As wireworms are often the only reason growers use treated seed in cereals on the Prairies, this guide will increase understanding of these pests and give options to help save costs and reduce unnecessary insecticide use. Further research is underway to develop easier monitoring and alternative control methods, and help farmers decide when insecticide seed treatments for wireworms are truly necessary in their fields.
External collaborators:
Dr. Julien Saguez: CÉROM (Centre de recherche sur les grains), Saint-Mathieu-de-Beloeil, QC
Ted Labun: Syngenta Crop Protection (Canada), Calgary, AB
For more information:
Catton H, van Herk W, Saguez J and Svendsen E (2021)
Guide to pest wireworms in Canadian Prairie field crop production. Agriculture and Agri-Food Canada, Lethbridge, Alberta, Canada
Free hardcover copies of the Guide to Pest Wireworms in Canadian Prairie Field Crop Production are available by emailing Dr. Haley Catton.
Distribution of Pest Wireworm (Coleoptera: Elateridae) Species in Alberta, Saskatchewan, and Manitoba (Canada). van Herk, W.G., Vernon, R.S., Labun, T.J., Sevcik, M.H. and Schwinghamer, T.D., 2021 Environmental Entomology, 50(3), pp.663-672