By: Sarah Tiffen and Charles Geddes White cockle (Silene latifolia Poir.) is a biennial or a short-lived perennial, that blooms during the night. It is a dioecious weed therefore each plant is either male or female and both are required for seed production. This weed is found across the prairie provinces along roadsides, in waste areas, pastures, and cultivated fields. The plant prefers well-drained areas and is a heavy seed producer. Each female plant can produce over 24,000 seeds which remain viable for up to three years. Introduced to North America from Europe, white cockle stands approximately 3 feet tall with white flowers. The flowers have 5 petals with deep notches, are fragrant and arranged in spreading clusters. White cockle (Silene latifolia Poir.) Female plants have flowers with one pistil and the calyx has 20 veins. The male plants have flowers with only stamens and the calyx has 10 veins. Bulb-like pods contain seeds. Seed production requires both male and female plants. One problem with white cockle is that its seeds are difficult to separate from commercially produced clover and alfalfa seeds. This plant is also found in a variety of cropping systems and is a concern on no-till farms and forage pastures in the prairie provinces of Canada. White cockle is fast-growing and out-competes forage seedlings which result in a poor forage stand. Most crops that are seeded at high rates and vigorous forage stands compete well with white cockle seedlings, however once established white cockle is very competitive.   What to do with White cockle To control white cockle, use tillage that is deep enough to cut off the roots below the crown and then deposit the plant on the surface to allow the plant to dry out. Surface tillage can be an effective way to control seedlings in summer fallow situations. Mowing can help prevent seed production, but white cockle can withstand annual mowing as the root will send up a new shoot. Hand picking is also an option if you are dealing with small infestations, but the entire root must be removed for this method to be effective.   It is important to prevent the spread of white cockle altogether, when purchasing seed ensure that it is free of white cockle seed and make sure hay purchased is free of mature white cockle plants.   References Anderson, J.F., Duddu, H.S.N., Shirtliffe, S.J., Benaragama, D., Syrovy, L.D., Stanley, K.A., Haile, T.A. (2015). Effects of pollination timing and distance on seed production in a dioecious weed silene latifolia. Acta Oecologica, 69, 153-160. doi: 10.1016/j.actao.2015.10.011  Alberta Agriculture and Forestry. (2011). Cockle, white. Retrieved from https://www.agric.gov.ab.ca/app107/loadPest?action=display&id=61  McNeill, J. (1977). The biology of Canadian weeds. 25. Silene alba (Miller) E.H.L. Krause. Canadian Journal of Plant Science,57(4): 1103-1114. doi: 10.4141/cjps77-164  
By: Sarah Tiffen and Charles Geddes
White cockle (Silene latifolia Poir.) is a biennial or a short-lived perennial, that blooms during the night. It is a dioecious weed therefore each plant is either male or female and both are required for seed production.
This weed is found across the prairie provinces along roadsides, in waste areas, pastures, and cultivated fields. The plant prefers well-drained areas and is a heavy seed producer. Each female plant can produce over 24,000 seeds which remain viable for up to three years.
Introduced to North America from Europe, white cockle stands approximately 3 feet tall with white flowers. The flowers have 5 petals with deep notches, are fragrant and arranged in spreading clusters.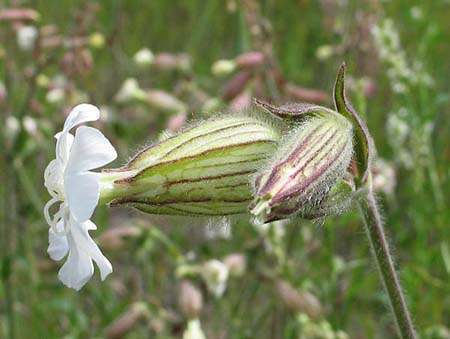 Female plants have flowers with one pistil and the calyx has 20 veins. The male plants have flowers with only stamens and the calyx has 10 veins. Bulb-like pods contain seeds. Seed production requires both male and female plants.
One problem with white cockle is that its seeds are difficult to separate from commercially produced clover and alfalfa seeds. This plant is also found in a variety of cropping systems and is a concern on no-till farms and forage pastures in the prairie provinces of Canada.
White cockle is fast-growing and out-competes forage seedlings which result in a poor forage stand. Most crops that are seeded at high rates and vigorous forage stands compete well with white cockle seedlings, however once established white cockle is very competitive.  
What to do with White cockle
To control white cockle, use tillage that is deep enough to cut off the roots below the crown and then deposit the plant on the surface to allow the plant to dry out.
Surface tillage can be an effective way to control seedlings in summer fallow situations. Mowing can help prevent seed production, but white cockle can withstand annual mowing as the root will send up a new shoot. Hand picking is also an option if you are dealing with small infestations, but the entire root must be removed for this method to be effective.  
It is important to prevent the spread of white cockle altogether, when purchasing seed ensure that it is free of white cockle seed and make sure hay purchased is free of mature white cockle plants.  
---
References
Anderson, J.F., Duddu, H.S.N., Shirtliffe, S.J., Benaragama, D., Syrovy, L.D., Stanley, K.A., Haile, T.A. (2015). Effects of pollination timing and distance on seed production in a dioecious weed silene latifolia. Acta Oecologica, 69, 153-160. doi: 10.1016/j.actao.2015.10.011 
Alberta Agriculture and Forestry. (2011). Cockle, white. Retrieved from https://www.agric.gov.ab.ca/app107/loadPest?action=display&id=61 
McNeill, J. (1977). The biology of Canadian weeds. 25. Silene alba (Miller) E.H.L. Krause. Canadian Journal of Plant Science,57(4): 1103-1114. doi: 10.4141/cjps77-164