Bug of the month April 2021
By Dan Johnson Lethbridge University
I began seeing multiple species of tortoise beetles in Alberta in about 2012. By 2015, they were fairly common, like one every week, but I don't think I saw any at all in 2020. It's possible they were in Alberta before 2012 and range as far north as Edmonton.
I have only seen adults and one larva. The larva is a bit spiky like a membracid, but of course they are chrysomelids, subfamily Cassidinae. It also has debris and feces on it.
I saw one thistle tortoise beetle (Cassida rubiginosa), Aug 1, 2016, in Lethbridge. It was introduced in the USA and Canada for weed control in the early 1900s and spread. Lately when I'm looking at thistle for painted lady butterfly, I find it. I didn't see it in the 90s, so not sure how long it has been here. I've never seen enough of it to be actually suppressing even one plant of thistle in Alberta. Watch for it on thistle.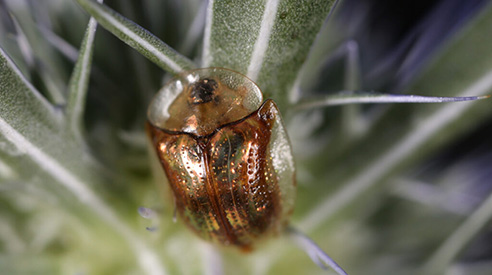 A golden tortoise beetle. Photo: Dan Johnson
Golden tortoise beetle (Charidotella sexpunctata) is easy to spot and I'm sure I would have noticed them, but I never saw any in Alberta before 2010. They were rare, then came back in larger numbers in 2014-2019. They can change colour via some ducts and fluids in the integument and have a red ladybird mimic form. They can change from gold to red on the same day. I went out on campus one day with Sejer Meyhoff to look for insects and we found both found golden tortoise beetle (two forms) in the same grassy slope, and more the next day.
Horsemint tortoise beetles (Physonota unipunctata) are rare but present in Alberta for at least five years. I found it just walking around in pastures, but it supposedly feeds only on horsemint, Wild Bergamot, Monarda fistulosa and bee balm. Unless I am wrong, it is rare. I didn't find a larva or see it adults feeding.