Good reading in your mailbox!
Farming Smarter Magazine Fall 2022 edition comes this week, tucked inside Alberta Farmer Express (Oct. 31) as an extra treat waiting for you in the mail!
It will also arrive in Agronomy Smarts subscribers' snail mail box this week as well! (Just another awesome subscriber perk)
We don't want to brag too much, but this edition is one of our best! It's been a big year for agriculture, especially in southern Alberta, while we couldn't talk about everything, we made sure to pack this edition full of informative and engaging stories.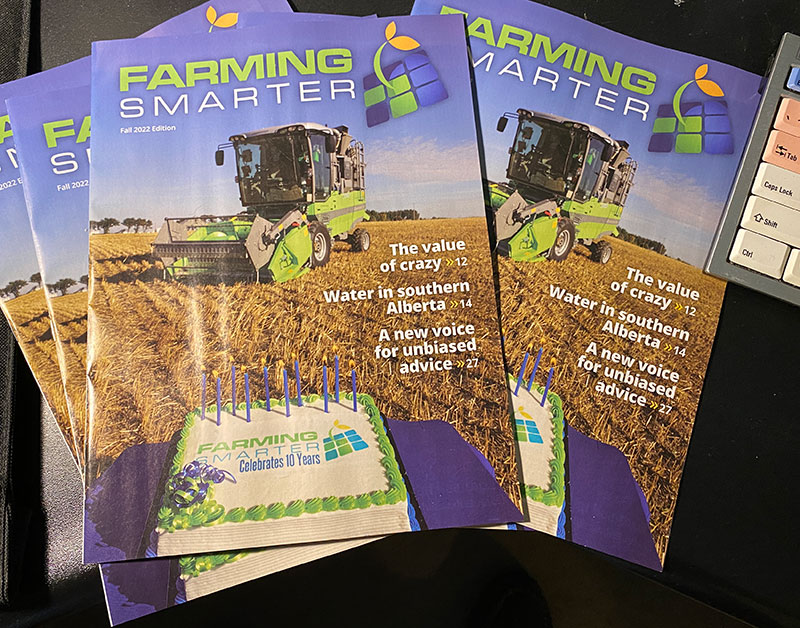 Dive into big Farming Smarter projects and what's driving agriculture in southern Alberta - partnerships, policy, and paddy-less rice!
Read about our collaboration with North American hemp research pioneer Dr. Jan Slaski, and learn about the latest innovative projects in our fields, and finally, how future and current policy changes affect the agriculture industry.
---
Don't want to wait for it to arrive in your mailbox? Subscribers can access our magazine on our website!
Farming Smarter Magazine direct to your mailbox is one benefit of becoming an Agronomy Smarts Subscriber! Open the door to knowledge for yourself by purchasing an Agronomy Smarts subscription today and instantly gain access to exclusive content as it's released, free event registration/attendance, and take advantage of partner discounts!
Make the Smart decision for your operation and become an Agronomy Smarts subscriber today!