Keep an eye out for us!
On August 22, at 9am, you can see the Farming Smarter Float in the Whoop Up Days Parade! This year, it's all about agriculture in southern Alberta and we can't wait to celebrate it with the Lethbridge community!
The parade is an opportunity for us to connect with the urban audience closest to us in Lethbridge.
"We want to make sure we engage people that are interested in food production in Alberta to give them the chance to learn more," says Jamie Puchinger, assistant manager and extensions team lead at Farming Smarter.
As stewards of agriculture learning, we feel it's our duty to bridge the gap between those in the city who are curious to learn more about their food and where it comes from and the farmers who grow it. Currently, the image of a farmer is outdated; the overalls and straw-hat wearing man, standing in a field with straw sticking out from his mouth. To improve the relationship between these two communities, first we must correct the image.
"Today's farmer is very knowledgeable and engaged in learning, constantly adapting their practices and production technology to be better and to do better. With the cost of land, farmers need to be at the top of their game, and we want to give people in Lethbridge the opportunity to visit our organization and see how we help farmers overcome operational challenges in today's industry," Puchinger adds.
Just like last year, we'll be showcasing the seasonal story of farmers – our seeder leading the charge, with our summer event people mover adorned with a variety of crops from our research this year, followed by our custom-made plot combine. We want to showcase these crops as they're commonly grown in the area and will hopefully spark interest in those wanting to learn more about the agriculture industry in the area.
We're excited to participate in such an exciting community event again and show off Farming Smarter's personality. We'll be handing out fun goodies as we journey through the parade route. So, make sure you get to the front of the crowd when you see our cow moo-ving down the street!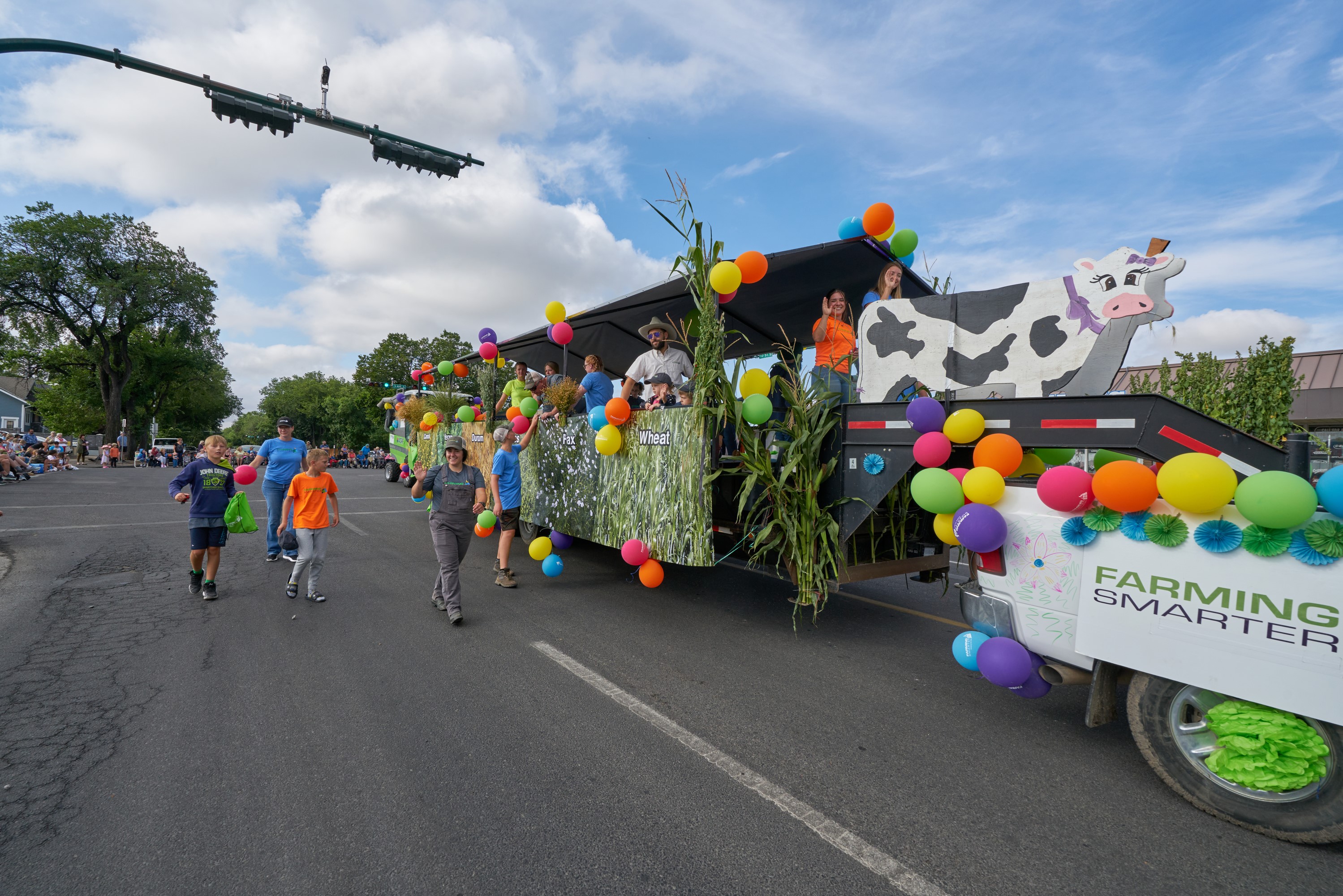 Image Caption: Our crop-covered people mover in the 2022 Whoop Up Days Parade. Keep an eye out for us this year to see what crops we researched over the summer!