Project Abstract

Extended grazing is a key component of many beef operations and corn grazing in late fall/early winter has been increasingly used in cow-calf operations in Western Canada. Benefits of corn compared to perennial forages, include increased yield, energy content, and increased average daily gain for late fall/early winter grazing of pregnant cows. However, pure stands of corn are low in dietary crude protein thus unsuitable for grazing of other classes of cattle with higher nutrient requirements.

This project investigates the intercropping management options to increase protein values by growing corn, with its high agronomic yields per hectare with annual and perennial legumes and grasses. Additionally, under extreme cold conditions, higher protein supplied by the intercrop and energy supplied by the corn and intercrop would also be beneficial for bred cows to reduce weight loss when under thermal negative conditions. Providing a balanced plane of nutrition both in terms of energy and protein will improve overall rumen efficiency and nutrient utilization as rumen microbes require sufficient energy to be able to utilize dietary protein for maintenance and growth.

The project will evaluate agronomic management practices in small plots for intercropped corn (protein forage species, fertility, corn row spacing, timing of seeding of intercrop). Based on the small plot results, three of the most promising treatments will be assessed in a grazing trial using backgrounded cattle or replacement heifers. Small plot trials will be established at six locations across Manitoba, Alberta and Saskatchewan. Economic assessment of pure and intercropped corn will also be conducted to determine the profitability potential for late fall/early winter feeding of beef cattle and their potential to increase the competitiveness of beef producers in Western Canada.


Project Details

Timeline
2020-2024
Principal Investigator:
Dr. Yvonne Lawley & Dr. Emma McGeough
Project Contact:
Dr. Gurbir Dhillon or Mike Gretzinger
Funded By:

Beef Cattle Research Council (BCRC)
Farming Smarter Executive Director Ken Coles leads an Open Farm Day tour through the corn intercropping project to emphasize on farm efforts to nurture soils.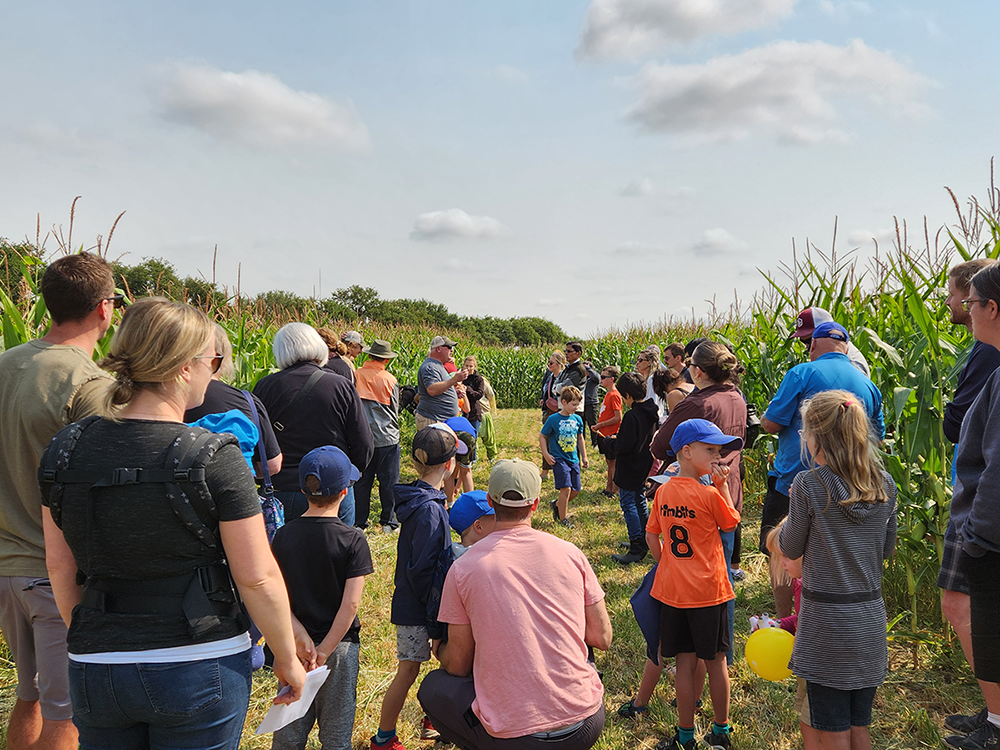 Project Objectives
Improve the resiliency of cattle production in fall/winter by using novel extended grazing strategies.
Identify optimal high-protein forage species and nitrogen application rate for intercropping of corn for potential late fall/early winter grazing of beef cattle.
Identification of optimal timing and method of seeding of intercropped protein forage and corn row spacing for potential late fall/early winter grazing of beef cattle
Evaluate three corn intercropping strategies for potential late fall/early winter grazing of beef cattle across a range of Prairie ecoregions.
Evaluate animal performance, feed intake, rumen microbial efficiency and grazing behavior of backgrounded cattle or replacement heifers grazed on corn-based pastures in late fall/early winter.
Economic analysis of intercropped high protein forages with corn for beef cattle grazing in late fall/early winter.
Methods

Collaborators or Locations

Parkland Crop Diversification Foundation, Roblin, MB,
Westman Agricultural Diversification Organization, Melita, MB,
Olds College, Olds, AB,
Farming Smarter, Lethbridge, AB,
North Peace Applied Research Association, Manning, AB. Experiment Site is North Start, AB (lat: 568553, long: -117.6368)
South East Research Farm, Redvers, SK
University of Manitoba, Glenlea, MB

Treatments



Measurements
Plant counts – corn and intercrop
Biomass mid Sept & mid Nov
Grain yield (Corn)
Feed quality analysis
Results
Sign in or subscribe to view