This spring, Farming Smarter is looking at the effects of ultra-early seeding on durum, in collaboration with Dr. Brian Beres. We're excited to be a part of this study as it builds off previous research, done by Dr. Beres, on early seeding wheat varieties.

While there are still risks involved with ultra-early seeding, like frost, previous research has shown that wheat grain yields are positively associated with the early seeding dates.
This study is taking place over three years across four locations in Alberta and Saskatchewan.
There are two main trials occurring within the study; one is looking at the response of wheat cultivars with planting dates based on trigger temperatures, the other trial incorporates dormant seeding and 1" & 3" seeding depths into a couple cultivar trials.
For the dormant seeding trials, we are investigating the effect of 0 planting into 0-degree soil, as well as 2-3 degrees, 5 degrees, 7.5 degrees, and 10 degrees. This will allow us to find which temperature leads to optimal grain yields.
Between November 2021 and January 2022, we planted some of the 0-degree trials and returned February 14th to seed the 2≥3-degree trials.
"For a lot of crops, we need to wait for warm soils," said Mike Gretzinger, Farming Smarter's Research Coordinator.
"With dormant seeding, we're basically waiting for the soil to essentially be frozen. For fall dormant seeding, we want it to be right around the freeze-up at 0-2 degrees."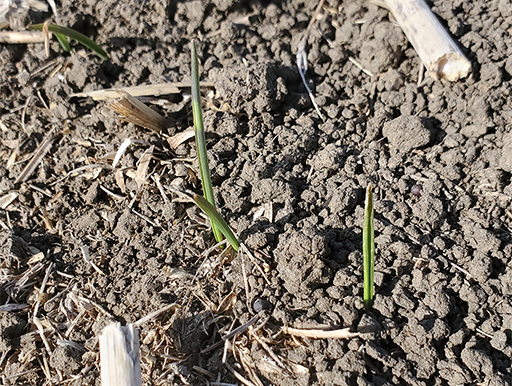 Ultra-early Observations
We want to see if ultra-early seeding is a feasible, potential system for spring seeded crops. For durum, it tends to have a little bit more challenge with it.
"Durum is a little bit weaker compared to other wheat varieties; it's more susceptible to frost, as well there's more potential for certain diseases," commented Gretzinger.
Through this study, we hope to determine how the ultra-early seeding system works for durum. While it's a proven concept for other classes of wheat, grain classes of wheat can vary wildly, making it relatively unknown in regard to durum.
The biggest influencer for the success of this programs resides in the opinion of the market.
Most of the durum produced in southern Alberta is milled into pasta grain or bread. There are specific requirements the yield must meet in order to be processed for markets. The challenge for ultra-early seeding is marking sure the plant itself can tolerate the frost and the cold soil.
You have a big risk of frost if you're seeding early. Seed can sit in the soil for a while, potentially causing issues with germ and vigor. Other environmental issues, like rain and snow, have to be accounted for as they have the potential to cause crusting.
In winter wheat varieties, the quality of the grain was maintained throughout the ultra-early seeding. It's a key component, especially with ensuring the subsequent yields are still at the market-grade quality.
While there's a lot of work to be done, we wanted to demonstrate this concept to growers. Due to this, we planted the trial under irrigation.
Originally, it was intended to be a demo, but once we did all of the work we decided we might as well get some research out of it!