by Daniel Ward
Farming Smarter draws summer students from a variety of backgrounds, education and experience. This year, three in particular piqued our interest about what attracted them to Farming Smarter.
We asked Blake Heller, Michaela Gateman, and Yemi Olaogun why they felt working with us will provide a positive and rewarding experience this summer.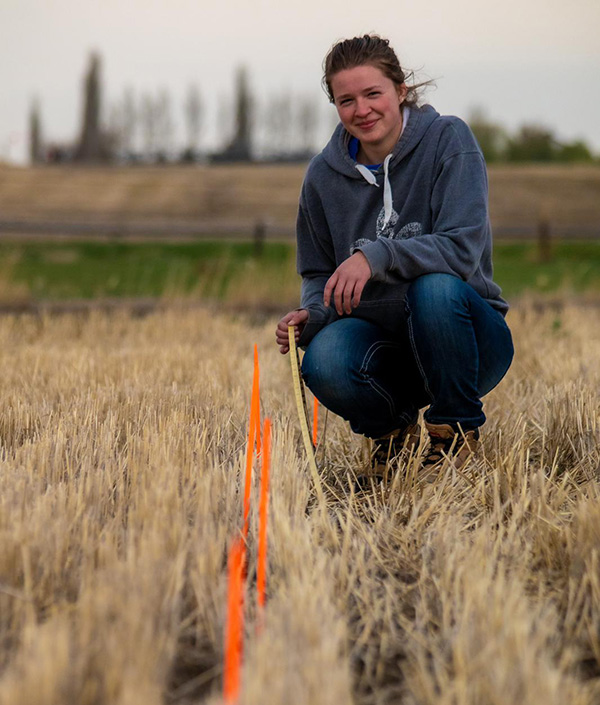 Image Caption: Michaela Gateman, staking plots in a 2021 Farming Smarter trial. This photo would become the cover for our Fall 2021 Magazine!
Blake Heller, an agricultural biotechnologies student, sees Farming Smarter as relevant and applicable to his field of study. His previous experience working at research farms was different.
"Farming Smarter's practices are more practical and agriculturally driven rather than purely science-driven," states Heller.
He enjoys the diverse range of trials at Farming Smarter that bring new challenges and a sense of accomplishment every day. Additionally, Heller's educational background in agricultural biotechnologies aligns perfectly with the opportunities at Farming Smarter, reaffirming his passion for this career path.
"I am just genuinely interested in plants and biology and the whole cycle of life. I think that's what keeps me coming back and pursuing more in the plant biology realm. There's just something about working in nature, being able to see the impact that you can have and seeing things grow and flourish. It's very rewarding," he says.
Heller highlights the exceptional learning environment at the organization that nurtures personal growth as one reason he's enjoying the experience. Furthermore he says, the integration of technology into the farm and how it changes the workflow and improves efficiency make it stand out. However, the shift from a scientific perspective to a practical agricultural one is the most valuable takeaway for him so far!
Michaela Gateman, whose background is in neuroscience and psychology, found her experience at Farming Smarter beneficial for her research and professional development. She appreciates the similarities in the scientific method across different fields. She routinely observes its application in the agronomy research we do. Although her academic pursuits are not directly related to agronomy, she gains valuable knowledge about plant life cycles, stages, and weed species.
Gateman has four summers with Farming Smarter and recommends it as a great place to work. She highlights the unique opportunity even for students without a science background.
"I really like it here. It's a great place to work and if you're a summer student who doesn't have any sort of science background it shows you how this all works in a real-life setting outside of a school," says Gateman. Adding, "You're with these people and doing research in real-time. It's very different here. I think that's cool."
Yemi Olaogun, who has a Master's degree in wheat science and crop rotation from Nigeria, believes his experiences at Farming Smarter will have a significant impact back home. Particularly in terms of discovering new ways to effectively and efficiently conduct research in practical ways that could improve their work.
"One of the challenges I might have with my experience here is, back home, we don't have the kind of technology used here. But I think a lot of what I learn here will really help improve the research work back at home," Olaogun comments.
"What I benefit from most is the use of equipment, which is a technological advancement compared to what I have back in my home country. There, most of our field operations happen to be manual, so the mechanical agriculture here has really impressed me," he continues.
Olaogun highlights the importance of precision and efficient data collection methods in the field, observing faster and more effective data gathering methods. Additionally, Olaogun states the routine and skill set of people at Farming Smarter means the learning opportunity for students is excellent.
We are grateful for the opportunity to sit down and talk with our summer students and hear how enriching the summer experience at Farming Smarter is for them. Regardless of their background or field of study, we are happy to take in students willing to learn and work hard, and hopefully offer valuable and rewarding experience in return.
Farming Smarter strives to provide students with the opportunity to learn new skills, gain practical knowledge, and observe research in action. Our aim is to foster an inclusive and empowering environment where students can grow personally and professionally into the future.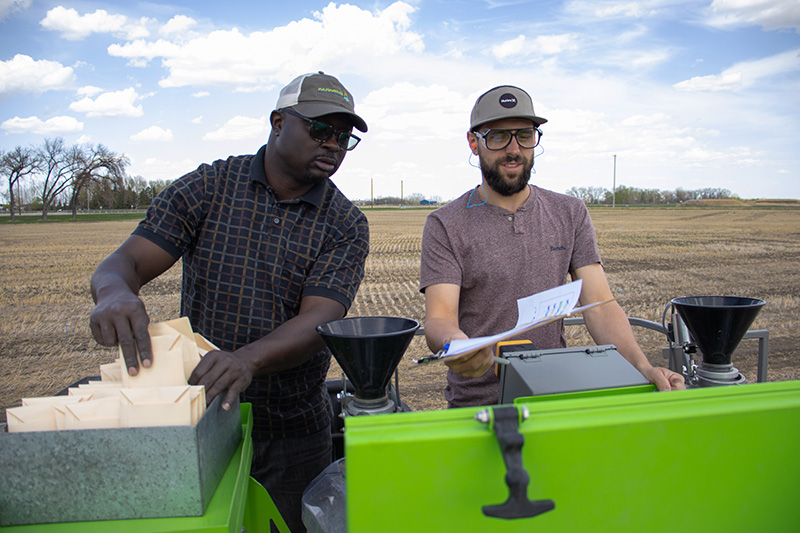 Image Caption: Yemi Olaogun, left, and Mike Gretzinger, right, seed rice trials for a new and innovative project and Farming Smarter. Summer students get the opportunity to work with new equipment and crops throughout the summer, and team leads work with them to develop the skills they want to strengthen for their careers!