Last week, for National Intern Day, we took to the field with one of our outstanding summer intern-turned-full time employees!
On a nice, sunny day in July, Morgan Zacharias-Hetesy rips through the field en route to an early morning kochia rating. Passing by strips of research plots in the Kawasaki Side x Side, Morgan reflects on what attracted her to Farming Smarter.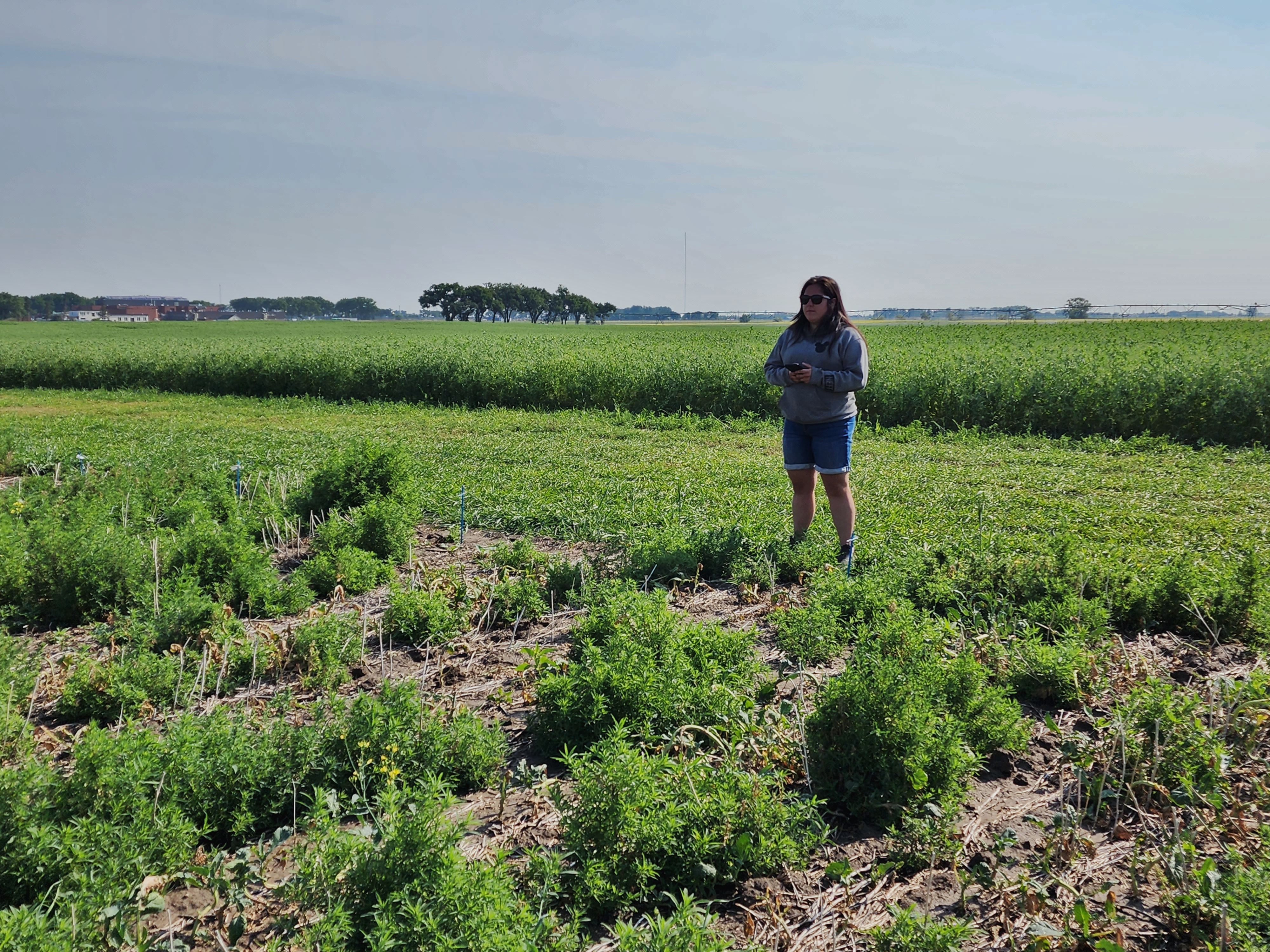 Image Caption: Morgan stands infront of a weed trial to record ratings for a Farming Smarter trial, 2023
"Labs were my favorite part of school. I could skip an entire day of classes, but I wouldn't skip my lab," she laughs, "I knew that I wanted to be in research, but I didn't want to focus on one crop."
Our Agronomy Research program invites College students to assist with harvesting hemp for biomass. This event was Morgan's first time encountering Farming Smarter – and it sparked an immediate interest.
Nervous about specializing in the 'wrong choice' of crop, Morgan wasn't sure if she was reaching for the stars.
"Most companies have you focused on one crop, and I wasn't confident in making that decision so early in my career. When I came to the hemp harvest, I was amazed at the number of crops Farming Smarter was researching. That's when I wanted to work here," she recalls.
That summer, she applied as a summer research assistant the second she saw the job post and was hired shortly afterwards. After graduating from Lethbridge College's Agriculture Sciences, Morgan joined the Farming Smarter team.
Farming Smarter hosts numerous interns. Each year, they handle field operations for our research – an important component of our success.
Morgan was excited to experience a variety of new skills when she started at Farming Smarter. Summer students assist with spring seeding prep, treating seed, sorting seed, mixing chemicals for desiccation and spraying. However, seeding itself was when she knew she wanted to stick around.
"After seeding, I was hooked. The whole process was enjoyable and getting to see the outcome of it was awesome. Witnessing the effects of treatments by mid-summer and the lead up to harvest got me hooked," Morgan comments.
With seeding done, research assistants upkeep the trials and routinely record data for the study. They'll rogue and mow weeds, check biomass weights, perform disease and weed ratings, record plant heights, and more!
Primarily a summer position, a couple research assistants stick around for the rest of the year. Before the summer was over, Morgan's team lead, Trevor Deering, started alluding to her tenure here. In August, she was offered another, longer contract. This contract would expand her duties and offer new opportunities for learning.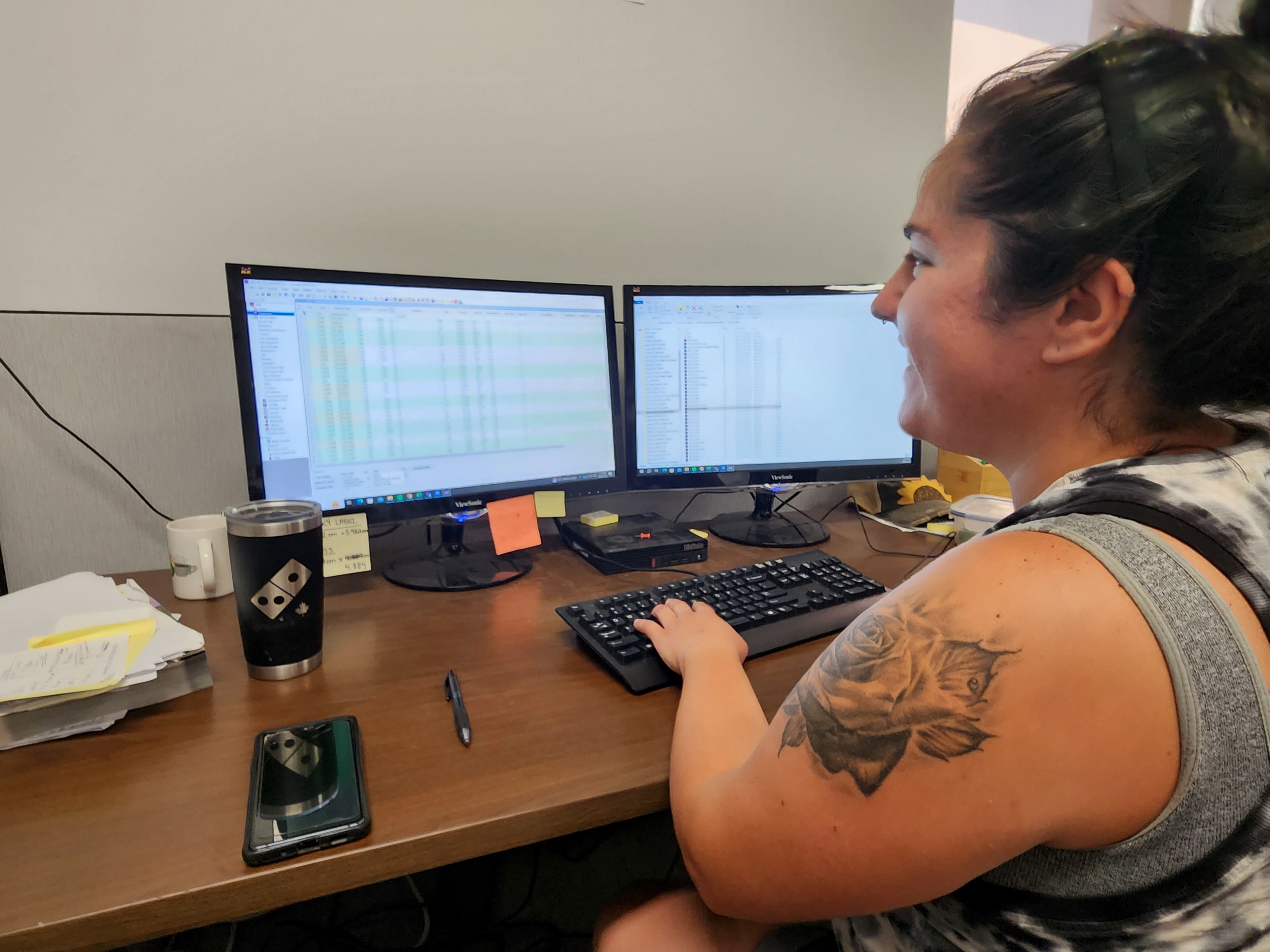 Image Caption: Morgan inputs trial data into a spreadsheet. This allows her team to easily reference the data before working on those plots later on in the season.
Over winter, Morgan had the chance to flex her data skills. Her duties changed from recording data in the field to inputting it into spreadsheets and analyzing it. She began assisting Trevor with preparing and finalizing Excel files to send to clients and updating information for clients. This adjustment to overtaking administration tasks carried over into the summer with Morgan creating weekly plans for the new, incoming summer students.
Now, Morgan is a powerhouse for the Custom Research team – providing guidance and assistance to the students and assisting Trevor with scheduling and tracking progress with projects. We're beyond glad to have Morgan on the Farming Smarter team and are thankful for her massive contributions to our success!
Image Caption: Morgan provides an enthralling demonstration, showing how chemical is mixed and prepared at Farming Smarter.