You're

never too old to learn!

Our staff always enjoy learning something new, especially if it helps improve their work skills.
Last week, Farming Smarter team leaders underwent a three-day training course to improve their leadership skills. The course brought a variety of leaders in multiple sectors of industry to expand the perspectives available.
Dr. Gurbir Dhillon, Trevor Deering, and Jamie Puchinger all enjoyed the chance to learn how to become more effective leaders.
Throughout the experience, the trio partook in learning exercises and activities that gave them valuable experience in properly communicating and navigating a variety of situations common to the workplace.
Working effectively with your team is paramount for a great leader and communication skills are crucial. This course identified and improved the skills of each leader present. Puchinger noted the smaller group size allowed everybody to have the chance to work on their public speaking skills through presenting scenarios. These scenarios allowed for constructive discussion around navigating tough conversations with your team, how to clearly communicate expectations, and how to successfully identify and provide support to team members.
For Dhillon, it was a great opportunity to put a structure around what can typically be a difficult conversation. Having the chance to practice discussing delegation with a busy coworker or have hard talks with an employee while helping them achieve their potential.
This opportunity gave Deering the chance to reflect on and improve tactics to running his team of summer students every year. The conversations in the workshop allowed him to hear new insight on how he can be a more effective leader. Being able to play out scenarios through role playing was helpful to understand how to deal with these situations, he says.
While they were missed in the office, three days to review the coursework without being rushed was a gift. As the course wrapped up, participants were tasked with presenting an innovative idea to the class with the winner receiving an innovation award. The presentation was as important as the idea for this final task in order to wholly convince your management of it. Gurbir Dhillon won the award with his fascinating idea to implement potato research into Farming Smarter operations!
Next week, more Farming Smarter staff will attend a similar workshop to develop communication skills!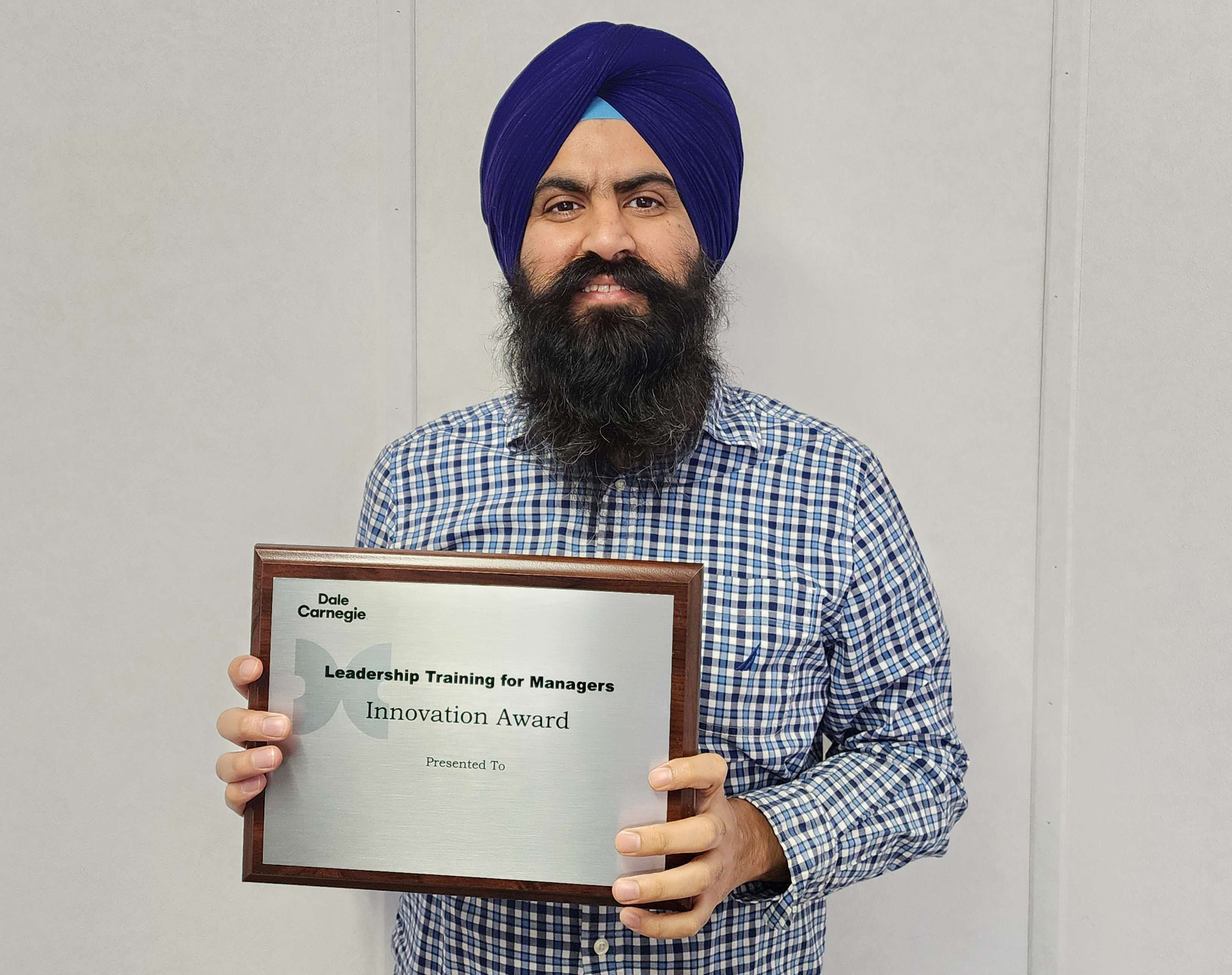 Image Caption: Dr. Gurbir Dhillon with his Innovation Award from the Dale Carnegie Leadership Training for Managers workshop him and two other Farming Smarter staff attended.