Farming Smarter works to advance agriculture by empowering and inspiring innovation. This isn't always about doing what's best for the soil and crops, though. It's also about empowering and inspiring the right people.
In celebration of International Women in STEM Day, we wanted to celebrate the women in STEM at Farming Smarter, who work hard to conduct the practical research and share the knowledge and wisdom our research evokes.


Jamie Puchinger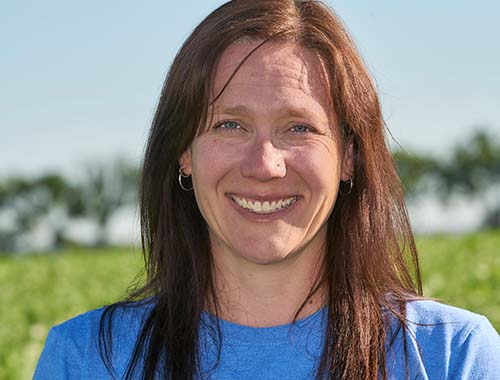 Every ship needs its pilot, and Farming Smarter's pilot is Jamie Puchinger ≥ assistant manager and extension lead! Networking and knowledge sharing is a vital part of agriculture research, without the ability to get research out there, it would have no purpose.
On-top of keeping us focused, Jamie plans all our great events; from our summer Field School and Plot Hop to the virtual conference in December and the live conference in February, she's the brilliant mind behind the madness.
Her interest in science was first piqued in school, and when she got to post-secondary, she pursued a career that allowed her to work outside. In a happy mix of science and the outdoors, Jamie's career took her to agriculture.
"The ties to the environment drew me in, but the complexity of the industry keeps the job refreshing and rewarding," comments Jamie.
"This industry is important, no matter who you are or what you do, you rely on agriculture. We have lots of people approach us with questions and it's fulfilling to be able to provide them with those answers," she adds.
Farming Smarter has provided Jamie with the opportunity to develop her previous set of science-related skills while offering the chance to acquire new skills. Her role as assistant manager and extensions lead has allowed her to build a diverse skill set in leading projects and people while pushing her career forward.
Since joining Farming Smarter, Jamie has assisted on multiple cutting-edge projects. Her favorite, however, was the clubroot canine project.
"It was such a different experience and allowed for the opportunity to work with a variety of people we wouldn't usually. We worked with dog trainers from the east coast to research a niche area of expertise, training dogs to identify clubroot beneath the soil and dig it up," recalls Jamie.
The outcome of the clubroot canine project was successful, as the dogs could accurately track and reveal clubroot. This project saw the creation of a niche market within southern Alberta agriculture as well!
Sara Gateman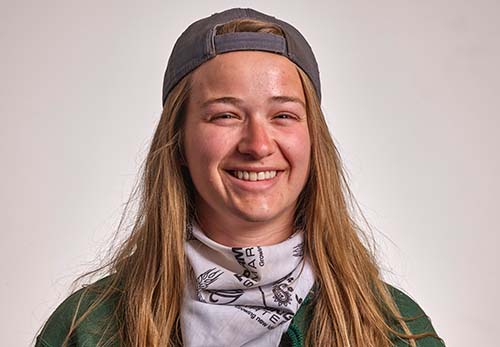 Sara Gateman started as a summer student seven years ago. She enjoyed the Farming Smarter experience so much that she decided to return each year until she joined us as a full time research technician last year!
"I enjoy coming into work each day and learning new things. My opinions and biases are constantly challenged, and that's something I'm grateful to experience," says Sara.
Since starting at Farming Smarter, Sara has assisted with a variety of projects from each of the research programs. She's become well-rounded in all field-related things and developed into a strong leader in the shop. Each year, students look to her for support and guidance ≥ which she is more than happy to provide.
This year, she got to take over her first project to assist the Custom Research team. While it was a daunting endeavor, she's more than happy for the experience.
While team lead Trevor Deering supervised, Sara took charge of seven herbicide trials and two fungicide trials. She oversaw everything from planning, to seeding and harvest, and scheduling maintenance.
"I learned a lot about myself, and surprised myself, as well as grew a new appreciation for the amount of work the team leads put into these studies," says Sara, "I was surprised by the level of organization skills I had ≥ there's lots to remember for one trial, never mind multiple."
"It was a good challenge, and I'm glad it succeeded," she adds.
Sara's interest in science kickstarted the first time her teacher wheeled a television into the classroom to watch Bill Nye the Science Guy. However, her passion was truly ignited after learning about the various remarkable women who advanced science. The women who risked their lives and reputations, like Ada Lovelace, Marie Curie, and Rosalind Franklin.
She hopes to go from the inspired student to the one inspiring other students. Although she enjoys her time at Farming Smarter, she plans to follow her dream of becoming a science teacher! In the meantime, she sees this as the place to be.
"Working here helps me solve problems no matter what they are or sometimes what I have or don't' have in the field and I think that's a valuable skill for my future goals," Sara comments.
Morgan Hetesy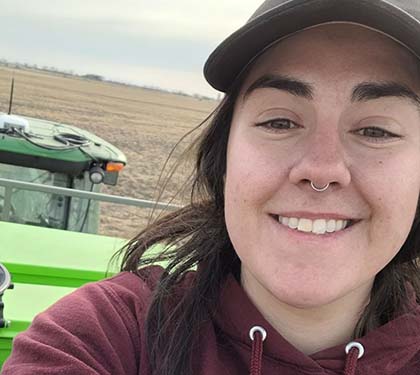 The newest member of Farming Smarter, Morgan Hetesy, joined the team in 2022 as a summer student. While the long stretches of scorching days weren't much fun, she still found the work enjoyable and fulfilling ≥ enough that she wanted to stay full time!
Coupled with the outdoor work, the opportunity to constantly learn new things was a huge motivator to continue at Farming Smarter. Like Sara, Morgan was first fascinated by how much "Science Rules!" after watching her first episode of Bill Nye in school. And similarly, the increase of women in STEM inspires her to pursue research.
"I enjoy the endlessness of science. Even if something new is discovered, you keep going and building on your work," says Morgan.
"I always want to learn more. There are so many little factors in the circle of life that depend on each other, and there's so much to learn there," she adds.
When she started at Farming Smarter, she was finishing a diploma at Lethbridge College after leaving the cosmetology industry. She was thankful for the hands-on learning, and the chance to learn new things every day. She quickly demonstrated her hard work and became our Custom Research team's go-to person. However, she never thought she would enjoy research as much as she has!
"In school, I enjoyed the labs, but I never thought I would be this interested in doing the research. I'm excited to find the direction I want to take my own research, but I think that will still take some time," comments Morgan.
As an early idea, Morgan would like to explore expanding crop rotations research. The goal, in her mind, would be to naturally maximize nutrient availability while minimizing inputs. Horticulture also intrigues her.
"It would be cool to see horticulture expanded through agronomic practices ≥ more garden crops engineered to be more adaptable to our climate! There are a lot of garden crops that struggle to grow here. It would be nice if we had hardier watermelons so I could grow my own," she says.
International Day of Women in Science, Technology, Engineering and Mathematics began in 2011 to recognize the value women can bring to these study areas. At Farming Smarter, we see this every year in the brilliant young women that work with us. We foster a family culture here and follow the careers of students as much as we can. We're often extremely proud we played even a small role in some of those careers.