We kicked off the day by introducing our permanent staff and familiarizing the students with Farming Smarter. While there were some familiar faces of returning students, many of the students on our 2022 Research Team are brand new.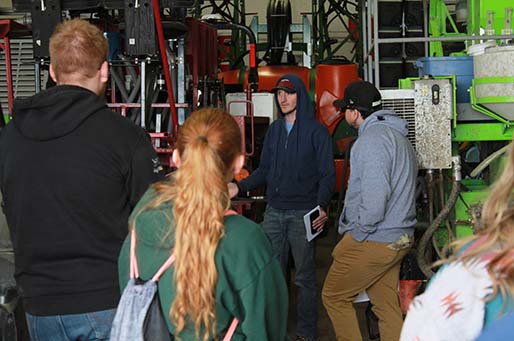 S-A-F-E-T-Y TOUR
Following staff presentations and introductions, team leads gave the students a tour of the equipment they will use this summer.
Safety is paramount at Farming Smarter ≥ we ensure all our staff get trained on the equipment they'll use and can operate it safely. We take the time to orientate our students with the equipment to give them the most training possible. An additional benefit to this practice is that it all students can operate all equipment and help where we need them most.
The tour allows us to set expectations early and ensures our students have the capabilities to deliver the best research possible. After the tour, we broke for a big game of disc golf before lunch!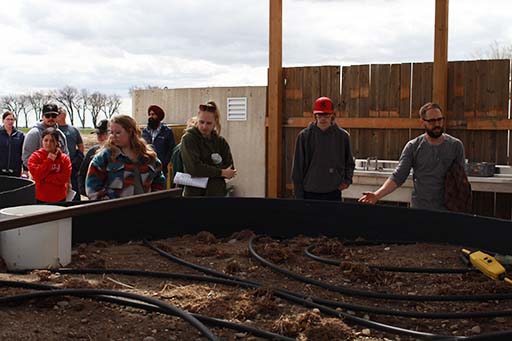 The Next Generation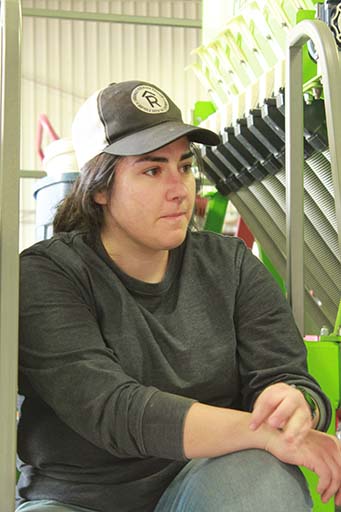 At Farming Smarter, we strive to support the next generation of agronomists and agriculture scientists. Every year, we hire a group of students as research assistants for the summer. We also take a practicum student from Lethbridge College Digital Communication & Media program.
Many of our students come from nearby schools, especially those we do work with like Lethbridge College and University of Lethbridge. Various grants support these student positions.
Last year, students from the Lethbridge College Agronomy program came to work in our hemp field. Morgan Zacharias-Hetesy was one of those students and that introduced her to Farming Smarter. That's when she knew she wanted to work here in the summer.
"I like being able to do lots of things at one time," said Zacharis-Hetesy. "All the different kinds of research you can do at one time here ≥ that blows my mind."
Austin Dennis, is very familiar with one of our upcoming projects.
"I've been working on the rice research at the University of Lethbridge. We started that in the greenhouse at the University. Now I'm working with Farming Smarter on plots outside and testing rice in southern Alberta," said Dennis. Like us, he is excited to see where that project will take us.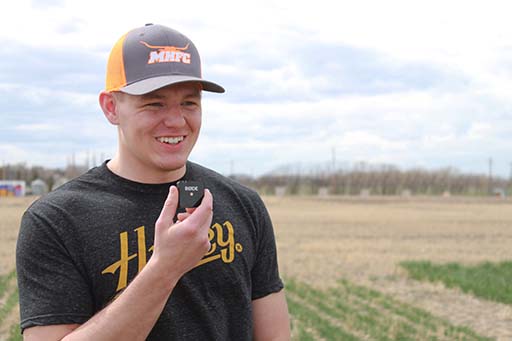 While there were plenty of new faces, we saw a few familiar faces as well. Kyrsten French is one of those returning faces. Last year, she was on the Agronomy team where she helped seed and spray the small plot trials.
This year, she is excited to spend the summer with Lewis Baarda's Field Tested team.
"I'm thrilled to do the field scale work and learn more about that. Last year, I just did small plots so it will be a different ball game," said French.
What's to come from our 2022 Research Team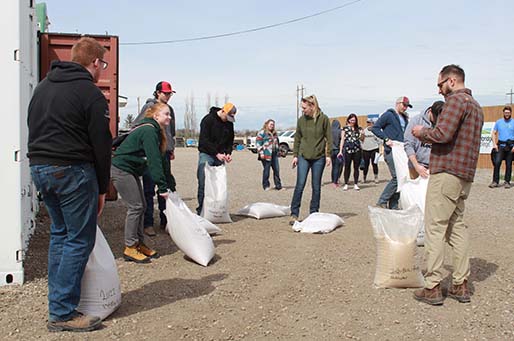 With our summer students prepared to take to the fields, we're starting to get seeds planted.
However, we aren't at our full capacity yet!
Two students from France are ready to take the journey out to the Canadain Prairies. They met Ken during his Nuffield trip through Europe and got excited by the idea of working at Farming Smarter.
It's not the first time we've had French students join us over the summer. Before COVID, Farming Smarter frequently had French interns as international work is a requirement for their agriculture degree.
We are beyond excited to welcome new students from across the sea in July!
The international students won't be the only ones starting in July. Two high school students will also join us for the summer!
One of them, Grant Nelson, was able to join us for orientation day.
While he gets plenty of experience working with animals at home, he wanted to learn about crops before he follows his aspirations of becoming a veterinarian or animal nutritionist.
"This is an opportunity to learn something new and I'm really excited to learn about different crop diseases and varieties," said Nelson.
We are beyond excited to have such a large team this year and are confident our team can deliver the best research possible.
There are a lot of interesting and exhilarating projects in 2022, so stay tuned!