Hubs allow researchers and farmers to work together
by Kristi Cox
Farmers all over Alberta benefit from 12 regional non-profit agriculture innovation hubs that perform research relevant to producers in their area. Beyond the research, the hubs network among themselves, facilitate producer to producer communication and support students exploring or working towards a career in agriculture. These hubs are key to strengthening agriculture in Alberta.
Each hub focuses on issues in their region, but they share insights with each other on everything from techniques to communication strategies. They also collaborate to access research funding and work on projects that illustrate how methods or crop choices work across the varied landscape and climate regions of the province
Innovation hubs attract producers who are keen to improve practices and share experiences with the broader community. The boards of directors are typically comprised of producers who network with fellow farmers to determine the research in demand to establish best practices.
They hold extension events to allow community members to follow the progress of projects. They also recognize that producers want to hear from other producers and to see large-scale implementation of new methods in real life conditions. When possible, they facilitate field days on members' farms.
Cooperative learning in the field
"One of our board members is avid about soil health," said Becky Doherty, general manager at West-Central Forage Association (WCFA). "As well as supporting our association, he is also a member of several other associations and is keen to share his knowledge through extension events. We recently held a well-attended, successful field day on cover crops at his farm."
Chinook Applied Research Association (CARA) were recently able to host a field day to look at ultra-early wheat seeding.
"There's been some work done on seeding in early April, so Gould Ranching decided to seed a few 100 acres to test it," explained Dianne Westerlund, general manager at CARA. "The field day made a great connection between the research that's been done, the producers who went out and did the seeding and the attending farmers who asked questions all afternoon."
Hubs are also reaching out to young people. For example, CARA holds farm safety camps and goes on school visits. They present to students in agriculture options classes and at the Agriculture School of Excellence in Altario.
Fostering the next generation

As non-profits, innovation hubs can access grants to hire students. Some of these students go on to pursue a career in agriculture.
"One local student worked one summer with us, finished her degree and came back as a full-time employee in our soil health lab," said Westerlund.
Examples like this exist in other innovation hubs. The extension coordinator at Peace Country Beef and Forage Association (PCBFA), Johanna Murray started out as an intern.
"I came on in 2019 right after I finished my college diploma," said Murray. "I had worked on a cattle ranch, and I'd done school, so I thought I would see what research was like." The planned 6-month internship led to a permanent position with the organization.
PCBFA has a unique extension method that allows them to reach a broad audience.
"I run our podcast, Coffee, Cows and Crops," said Murray. "It gives us the opportunity to share information that isn't tied to specific funding goals. We can pivot based on what is happening in the industry a little more easily."
Murray explained that last year she was able to bring drought experts to the podcast to help producers deal with that immediate challenge.
Webinars are another way for hubs to connect remotely with their audiences.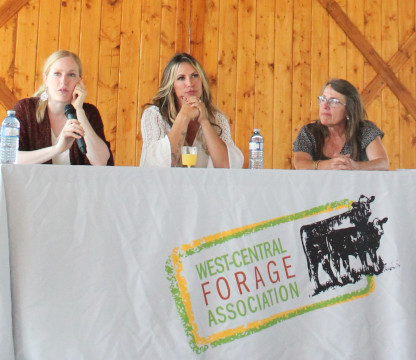 "We made the pivot to webinars during Covid, so we will probably do a couple of winter webinar series," said Murray. "It's accessible and then nobody has to drive in blizzards (to attend)."
Sometimes hubs can narrow in on an under-serviced audience. WCFA offers an annual Ladies' Ranching Retreat offering professional and skill development as well as networking and self-care to women in the agriculture industry. They created the event to support women involved in the farm. They learn new skills and meet new people, building a sense of community.
"Women are juggling ranch tasks while also being mothers. We need to support and empower them," said Doherty.
Agriculture innovation hubs strive for improvement in agriculture practices through research, by sharing with the community, and inspiring future generations to bring their best to the fields.