By C. Lacombe
Canadian farmers produce hemp for grain, fiber, and pharmaceuticals, contributing to a growing industry of hemp-based consumer products. This industry took two decades to establish as no one in North America dealt in hemp production or products.
"Canada reintroduced hemp in 1998, when the federal government lifted a 60-year ban on cultivation, processing, and growing," says Dr. Jan Slaski of InnoTech Alberta. Both Canada and the United States banned industrial hemp cultivation in 1938 and 1937, respectively. Beginning in 1961, Health Canada allowed limited production in Canada for scientific research purposes.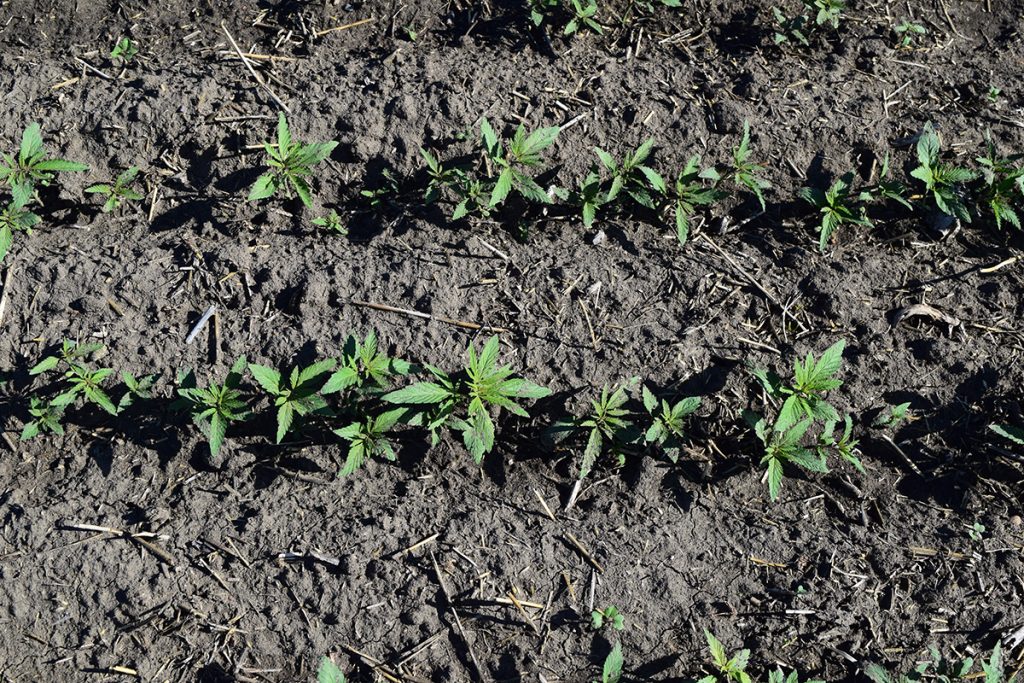 Because of its stigma, four to 6% of Canadians use industrial hemp products. In contrast, 60% to 70% of Canadians knew of, had contact with, or used marijuana products before legalization.
When the ban lifted, Canada quickly became a leader in growing hemp grain (hemp hearts), but Slaski knew one day hemp fiber would solidify the industry.
"When I started researching hemp in 2002, Canada grew hemp commercially for grain use. I knew about endless opportunities for hemp fiber," Slaski says. He wanted to create the information farmers need to grow and harvest hemp suitable for market demands.
However, Slaski had difficulty finding support ≥ proposal after proposal for hemp agronomy research was rejected.
But, when staple crop prices crashed in 2012-2014, Farming Smarter organized townhall meetings in southern Alberta to ask farmers what they needed to recover and move forward.
"Farmers wanted alternatives to our staple crops," Slaski remembers. "Thankfully, Alan Hall attended those meetings. Similarly, he was scouting for new projects in agricultural research, and afterwards, Alan called me and said, 'Jan, please submit a proposal for hemp agronomy research.'"
Research Hits the Ground Running
Thus began two decades of research into Alberta hemp agronomy by a partnership between Jan Slaski, InnoTech; Ken Coles, Farming Smarter; and Vance Yaremko, SARDA Ag Research.
"We finally hit a critical mass of interest. By our involvement, we were seen as the industry partner," says Ken Coles, Farming Smarter Executive Director. They began with variety trials before researching dryland vs. irrigated agronomy at Farming Smarter.
According to Mike Gretzinger, Farming Smarter Research Manager, "Our first experience cultivating hemp was a variety trial which we duplicated under dryland and irrigation. This helped us get a feel for the challenges and opportunities to expect moving forward."
They developed a three-year framework, based on feedback from industry and other researchers, focused on agronomy basics in southern, central, and northern Alberta.
The first study identified many key practices, many of which were included in the hemp production manual for Canadian Hemp Trade Alliance (CHTA).
Hemp is adapted to late seeding and doesn't lose much yield compared to other crops. However, Gretzinger adds, "we still pay a yield penalty for late seeding. Nitrogen response, seeding rates and dates, were all key data points from the early trials."
The second set of agronomy trials explored combinations of nitrogen and phosphorus and their effects on fertility.
"We increased the nitrogen & phosphorus to look for a response with intensive management. We found that there was a curve for optimum yield in a field setting, however unlike in a greenhouse, we couldn't get any more grain or fibre yield compared to just following good agronomic practices," Gretzinger says.
Further research sprang from the agronomy trials, investigating different seeders; response to liquid phosphorus; the best fit for hemp in crop rotations. Farmers followed this research as it emboldened their confidence in hemp as a crop.
Alberta's hemp acres grew from 6,378 in 2013 to 18,083 acres in production by 2017.
But, growing a crop doesn't guarantee a buyer ≥ Alberta producers had buyers for grain, but not the stalks.
Industry Spurs Development
Fortunately, Dan Madlung, BioComposites Group President and CEO, wanted the stalks for fibre.
"Hemp in Alberta was grown for seed, not fibre. Alberta leads in the production of hemp seed for food, which caused all the choice hemp varieties in Alberta to be short stalked, seed producing varieties. The stalks were often burnt, bailed, or plowed into the field," Madlung says.
BioComposites Group produced automotive car panels from wood waste, but soon found decorticated hemp stalks were better for its products. At the time, BioComposites Group was the most advanced hemp fibre business in North America. Three years ago, it began to produce products for different markets.
"That was a difficult time because customers didn't know the products. We had to develop the customer base while we developed products," Madlung explains. "We had to choose a direction, and part of that choice was based on the maturity of the supply chain."
Hemp stalks must undergo two processes before use ≥ retting and decortication. Retting involves leaving the hemp in the field for weeks to breakdown the fibres that connect the internal (hurd) and external (bast) stalks. Decortication separates the hurd fibres from bast fibres. Once separated, each type of fibre has a different path in the industrial hemp product supply chain.
There was only one small hemp decortication plant, owned by the provincial government, in Vegreville. This meant, Madlung had to look south for decorticated hemp stalk. A year later, he had to go further.
"We outgrew the decortication capacity in North America and began importing from Europe," he says. "It's crazy because in Alberta all the straw went to waste because there was no capacity."
Ken Coles explains, "The challenge is, like any novel crop, it ebbs and flows, with market demand not matching production. So, you get overproduction and then market crashes."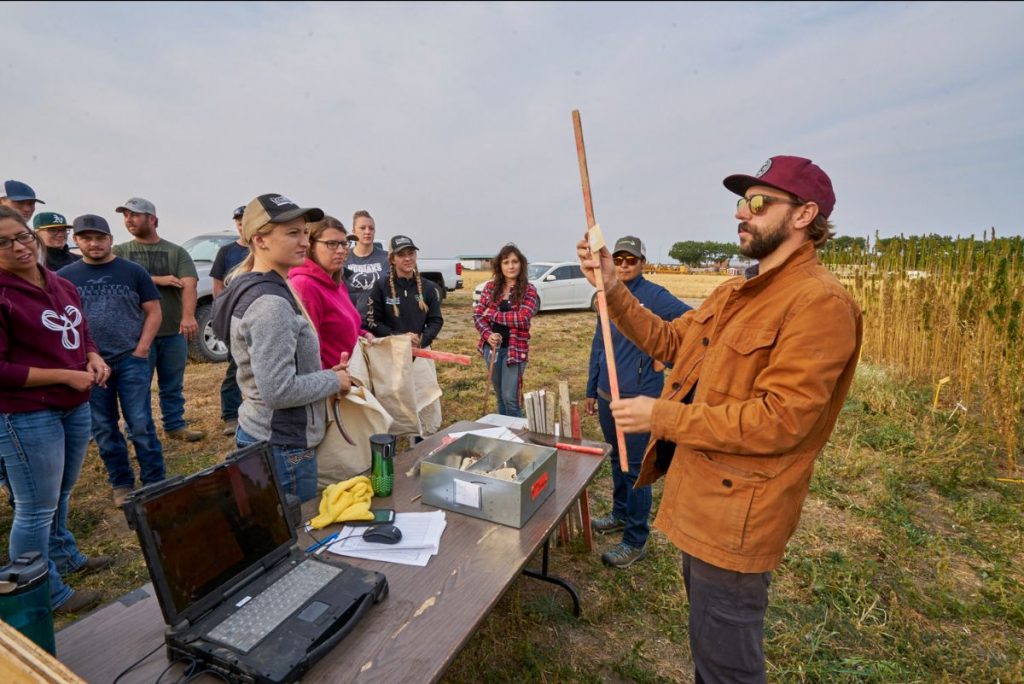 Hemp Gains Momentum
The first Farming Smarter hemp tour attracted 120 people. Individuals from the value added industry came to gauge whether the marketplace or the feedstock supply would support a processing plant. Now, it wasn't just grain driving the hemp market.
Unfortunately, growers found themselves in the cyclical throes of the novel crop market and needed the processors to catch up ≥ hemp acres fell to 8,833 in 2020.
Slaski believes the agronomic research proved Alberta can grow hemp and played a huge role in establishing the province's hemp industry.
"My take is that our research took risk away from processors and manufacturers because we accumulated knowledge of how to grow hemp, which varieties to grow, and how to fertilize it. It convinced them that they can set up processing facilities because the hemp feed stock is steady," he says.
Dan Madlung appreciates the research and work InnoTech did to advance the industry.
"Everything from the genetics, to how it's grown, harvested, and retted is important. As a user and buyer of the straw, we see that in spades. The genetics are the base, but the farmer education, from the fibre perspective, is just as important."
Madlung invested in a decorticator that allows him to buy straw from the farmers in Alberta instead of Europe. Today, BioComposites Group produces their own fibre.
Slaski says we can call the industry established in Alberta. Now, industry is driving hemp acreage as processors continue to increase their capacity.
"There are many tangible market drivers for hemp fibre. The global market is phenomenal; there's a big boom in the States, Australia, and New Zealand for hemp hurd as demand for hempcrete rises," he says.
Madlung agrees, "Alberta continues to be the most advanced and we're attracting a lot of investment in some very large facilities. I'm optimistic for the industry right now."