We wrapped up another great Farming Smarter event - our 2022 Conference & Trade Show!
Our first big in-person event in the last two years was a smashing success! It was great to see everyone again; getting the opportunity to catch up, share stories, eat delicious food, and network face-to-face.
As nice as it is to attend a full-day workshop from the comfort of your couch, the face-to-face interactions were sorely missed.
We were glad to host our keynote speakers, Jeff Butler and Kim McConnell. They did a wonderful job at getting the room energized for a full day of presentations.
This year, we had 128 guests join us for each of the two days and a total of 21 trade show booths. There was a lot to keep attendees busy!
Thank you for all of the support, on behalf of us & 4-H. Our silent auction collected more than $6,000. We were more than happy to have them at the event! These youth speakers helped breathe some new life into the room after lunch!
We'd also like to extend a big congratulations to Laverne Gill, who was awarded the Orville Yankee Award for 2022 at the Conference & Trade Show!
The Orville Yanke award is a memorial award named in honour of one of southern Alberta's earliest and most ardent soil conservation leaders - Medicine Hat farmer Orville Yanke. According to Laverne Gill, Orville's farm is now known as "the wisdom area."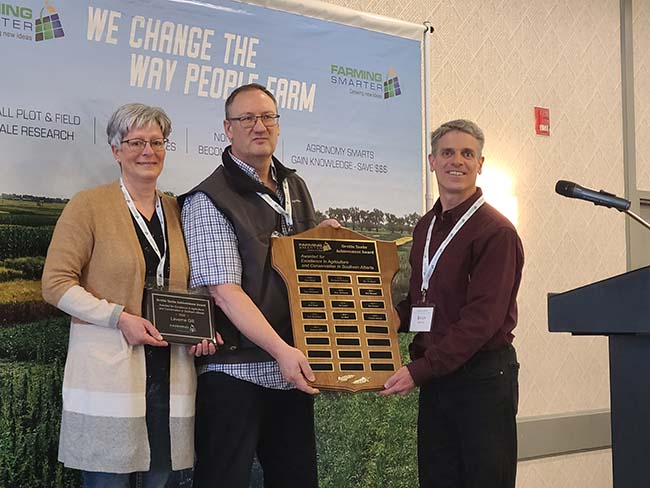 Our Speakers and Presentations
We had a slew of topics this year, our presentations ranged from an in-depth look at soil all the way to cultivating algae for protein and everything in-between! (Did you know 72% of Canadians like cookies? Dr. Stan Pankratz was happy to tell us, along as hand out algae cookies!)
Our first day kicked off with our keynote speaker, Jeff Butler. Butler flew here from Texas to speak at our conference - his first international speaking event since the start of the pandemic. He spoke to the room on how to build an effective workplace when your workforce spans multiple generations.
After Butler provided us with the groundwork of the future workplace, Farming Smarter's very own Ken Coles took to the stage to provide us with the future of farming.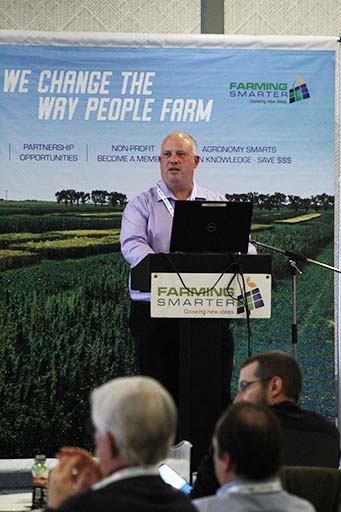 Coles discussed Farming Smarter's application for the Agricultural Climate Solutions - Living Labs grant. The grant aims to build a Canada-wide network of living labs. The program will bring together farmers, scientists, and other sector partners to co-develop, test and monitor beneficial management practices on working farms to reduce Canada's environmental footprint and enhancing its climate resiliency.
Sound familiar? It feels an awful a lot like staring in a mirror for us!
Coles presented our quest to become a regional leader in southern Alberta for this project. He showcased the strides Farming Smarter has taken to establish ourselves as somewhat of a living lab; bringing together farmers, scientists, and industry partners to collaborate on our research.
Dr. Jonathan Neilson & Dr. Ben Ellert, both from AAFC, gave two fantastic back-to-back presentations on soil health to close out day 1. Dr. Neilson talked about the impacts of potato production on soil health and the affects soil health has on potato production. While Dr. Ellert's presentation touched on soil health as a whole. He discussed other recent infatuations within the industry, touching on regenerative agriculture and carbon sequestration in his presentation as well.
Kim McConnell delivered an electrifying keynote speech to kick off day 2. Farming Smarter scientists Trevor Deering and Mike Gretzinger took to the stage to finish out the morning. Deering presented an update on the war with alfalfa weevils while Gretzinger discussed the latest research in industrial hemp.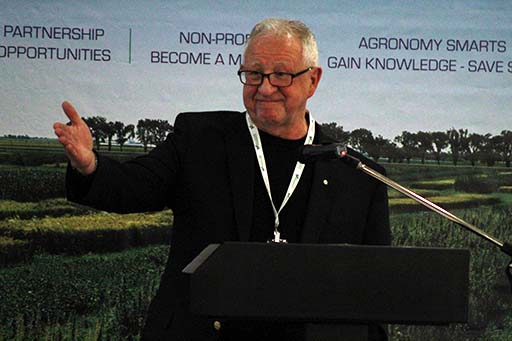 Stirring Up Youthful Energy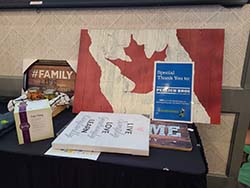 While the presentations focused heavily on research, we were happy to have some 4-H speakers take to the stage after lunch each day. Although short, these presentations had a big effect on the audience.
Each day, the 4-H speeches would flood the room with some much needed energy. It helped shake off the post-lunch slump many of us felt after eating the delicious food prepared for us by Prime Catering.
This jovial energy helped to drive a lot of attention to the 4-H Silent Auction that ran throughout our event. We managed to exceed expectations this year and had a very successful silent auction! It raised nearly $6,500 for 4-H and selling every item available!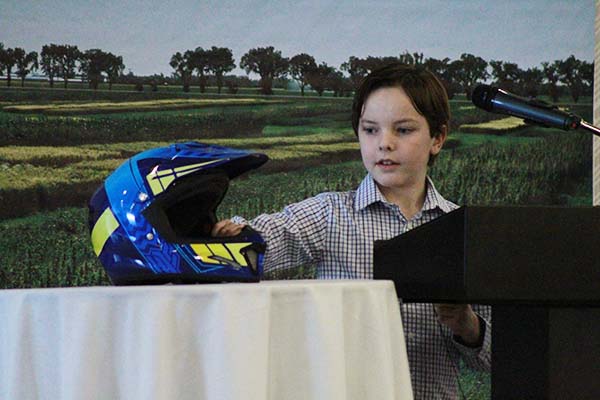 See you next year!
We're beyond thankful for all of the support from our partners and sponsors for helping us run this event smoothly. From all of us at Farming Smarter, we would like to give a big thank you to all of our speakers for taking the time to present at our conference and to everyone who came out and attended the event. It was great getting to see you all in person!
For those who missed the presentations at the Conference & Trade Show, keep an eye on our YouTube channel! We'll have the recorded presentations available for our subscribers in the coming week.
If you aren't an Agronomy Smarts subscriber already, now is the perfect time to become one! Take advantage of our fantastic discounts and attend all of our events for free - like the Pesticide Applicator Workshop, March 24th.