From the Spring 2022 edition of Farming Smarter magazine
by Kristi Cox
Laverne Gill's generosity, quest to both acquire and share knowledge, and willingness to try new things, all led him to be the 2021 Orville Yanke Award recipient. Farming Smarter presents this award annually to someone that made a significant contribution to soil conservation in southern Alberta.
"Laverne is so giving of his time and his resources and so community-minded that we feel he's very deserving of the Orville Yanke Award," said Ryan Mercer, Farming Smarter Board President.
Gill grew up on a farm close to Elkwater. He worked for 26 years in the computer department of the City of Medicine Hat. He and his wife continued to do a bit of farming on the side.
In 2008, he retired and focused on expanding and improving his farming practice. They relocated, and rented land northeast of Medicine Hat, where most neighbours were still using summer fallow. Gill adopted a four-year continuous cropping rotation and direct seeding practice that caught the attention of his neighbours.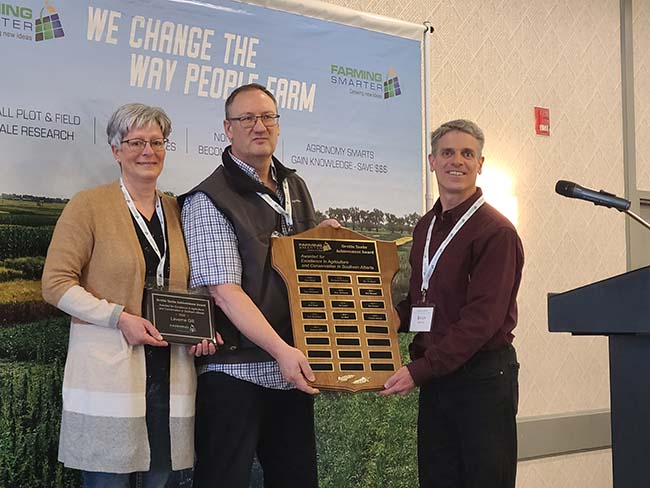 "Early on they could see the benefits of what we were doing", Gill said. We were able to increase our land base by renting more acres."
Shortly after Gill started farming in his current area, Farming Smarter set up plots near Medicine Hat. He embraced Farming Smarter's educational opportunities and served on the Board of Directors.
"We were trying to become a productive farm basically from scratch," said Gill. "I felt like that's where my advantages were. Farming Smarter wanted to share their knowledge, so that we were all doing a good job. There are tremendous friendships and relationships built from communities and like-minded people that want to share, grow, keep the industry alive and in good light with the public."
When Gill worked in the city, he would bring people out during harvest to see how a farm operates.
"We try to be a liaison for the farming community. I think that if we don't have public buy in on what we're doing and how we're doing it we're quickly going to get moved to the side for something else," he said.
Gill's stewardship practices extend to leaving grass along ditches and allowing slough areas to naturally regrow. He's looking at creating habitat for raptors in hope they will naturally control gophers.
Gill's wife, Launa, and children Brandt, Kristin and Garrett, are all part of the operation's success.
"They've all bought the pitch that I've been pitching and they've always helped," said Gill. "We work as a team. I'm a big advocate of being able to work together - and we get more accomplished. I can't say enough how much I appreciate them."
The Gills aim for a 5% improvement on their farm every year.
"We brainstorm at the end of the year after our crops come in," said Gill. "What can we improve on? What do we need to purchase to make those improvements? Sometimes it's pieces of equipment, sometimes it's the other things like software or processes"
When Gill was a teen, he recalls many people were skeptical of Orville Yanke's plan for direct seeding. Not many years later his parent's farm adopted what Orville's practices.
"And lo and behold, here we are," said Gill. "95% of the farming community is doing exactly what he pioneered at the time. Don't be afraid to try something new."
Mercer noted that innovators take a risk, but that without this, there is no progress.
"Any time you try new things and improve methods, you're on the 'bleeding edge'," said Mercer. "To find out what works, you have to try several different things, and you're going to end up trying things that don't work, but that's all part of the learning process."
---
Keep an eye out for the 2022 edition of the Farming Smarter magazine! It was distributed through Alberta Farmer Express to 10,000 rural southern Albertan mailboxes.
It will also be published online! This week, you can find it on AgCanada.com - make sure to check back next week and find it on our brand new website!