Harvest is different for Field Tested than other programs at Farming Smarter.
This year, our Field Tested team had a big mix of everything planted in the field. Alfalfa was one of the big crops, as well as wheat, barley, canola, and pulses. As we aren't focused on harvesting for yield, this time of year is used primarily for data collection by the team.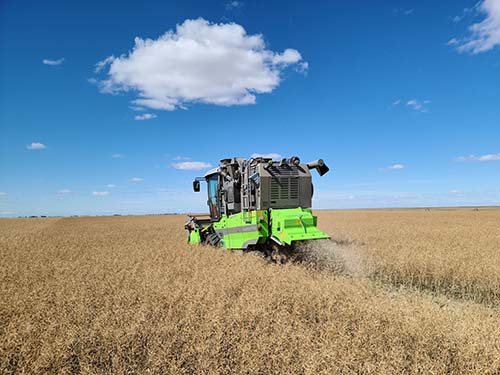 Not every Field Tested project requires yield data, but we still collect hand samples! This helps us create an idea of yield throughout the field, and we hope to use it to create a yield data map in the future. While this isn't directly connected to any of our projects, it's always nice to have a side-project! Plus, we think it will ease logistical restraints for the team.
Logistics pose to be the biggest challenge for our Field Tested team. Because we work with so many growers, harvest requires magnitudes of planning long before crops start to turn brown.
Unlike the other teams, the Field Tested team relies on grower's equipment to handle field-scale operations like harvest. This requires us to work together with our partners to schedule harvests. Unfortunately, it leaves room for unknown variables like weather to influence our plans.
Weathering Harvest Problems
Ideally, farmers are able to send harvest equipment to the field we're working in regardless of their other operations going on. However, a string of bad weather can put pressure on growers to get crops off as soon as possible. Additionally, it can mean crops aren't dry enough to harvest come the scheduled harvest date.
"Thankfully, we've had really good weather this fall," says Lewis Baarda, Field Tested Manager at Farming Smarter. "Because of that, it's kind of an 'open fall' which allows us to be flexible."
Regardless of what goes right, harvest is always a busy time of the year. Our Field Tested team is on the road each day, helping with harvest and collecting data. While it's a constant feeling of busyness, the team finds it hard to feel bad about it.
"It feels good; everybody's out there with something to get done," says Baarda. "When a farmer is done with their field, they're done for the year. They're feeling good about being done and we're feeling good. They get their crops and we get information to share with them and our membership."
If you're interested in seeing the results of our Field Tested projects from this year, you can become an Agronomy Smarts subscriber today! Get instant access to exclusive content, like new research results, and much more!