Cam de Wolf spent Tuesday setting up the Monosem seeder to plant canola. He and Toby Mandel moved the seed row units to 20 inch spacing. Cam installed the canola disks and calibrated the machine for the canola seed Farming Smarter will plant.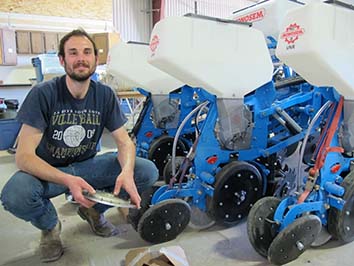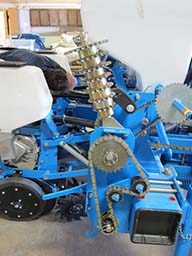 The Monosem is a high precision seeder meant for precise seed placement in both depth and spacing within the row. Through a project with CARP (Canola Agronomic Research Program), Farming Smarter will:
Explore yield effects of seeding canola with the Monosem planter vs an air seeder
Measure how much and how consistently a precision planting system improves canola emergence and uniformity
Determine the optimum seeding rate when using the planter on wide row spacing
Communicate the risks and rewards of seeding canola with planters on wide row spacing
Determine maximum seed-safe rate of in-row liquid P when using a precision planter
Farming Smarter will use the Monosem for both corn and canola.