At Farming Smarter, we proudly play a role in preparing the next generation of agriculture professionals. Every year we hire multiple students to assist us with field work.

These students will become ag industry leaders and tackle the challenges of the future. A summer at Farming Smarter provides a lot of experience that you can't find in a classroom. When students work every summer through university at Farming Smarter, they graduate informed of and ready to face that task with enthusiasm.
For Farming Smarter, summer students help us tackle our incredible workload for the growing season. They also infuse our year round team every summer with that youthful vigor and curiosity only found in the people at the beginning of their careers. The experience provides these students with the opportunity to get their hands dirty and gain experience in the field while studying and, sometimes, helps direct career choices before their time in school is up!
When students first arrive, many of them are nervous and uncertain if this is what they want to do. When students leave, they are excited at the chance to come back the following year.
This year, we wanted to turn the spotlight on some of them and celebrate the hard work they've done so far this summer. Unfortunately, we couldn't get every student.
Austin:
While Austin is still uncertain of where he wants to end up, he's enjoying his time in ag research. He enjoys his time at Farming Smarter as it provides a good learning environment, and everyone is very open to help and wanting to aid in the success of the students here. After the summer, Austin will return to the University of Lethbridge to complete the final semester for his Environmental Science degree.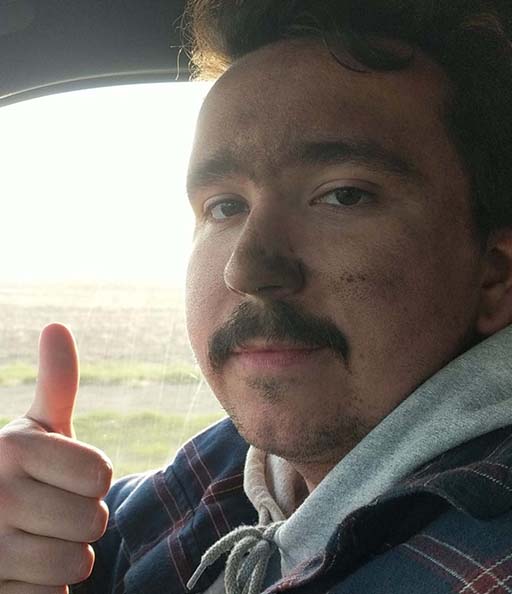 ---
Liam:
New to southern Alberta, Liam is establishing his roots within the community before he chases a career. Farming Smarter provides him with the opportunity to experience the most of southern Alberta, and he learns something new every day! This is Liam's first experience with agriculture ≥ he is taking a History degree at the University of Lethbridge. While a lot of it is fun, much of it is frustrating ≥ but it gives him a chance to develop problem solving skills he never knew he would need.
---
Kyrsten:
Kyrsten worked at Farming Smarter last year and has returned to work for a new program. She has a long-term job lined up with a private farm to work with potatoes after she finishes her Bachelor of Agriculture Science at the University of Lethbridge. While her favorite crop to work with is potato, she believes that the advantage to working at Farming Smarter is it provides her with the experience of working with a variety of crops, as well as going through the entire production process.
---
Emma: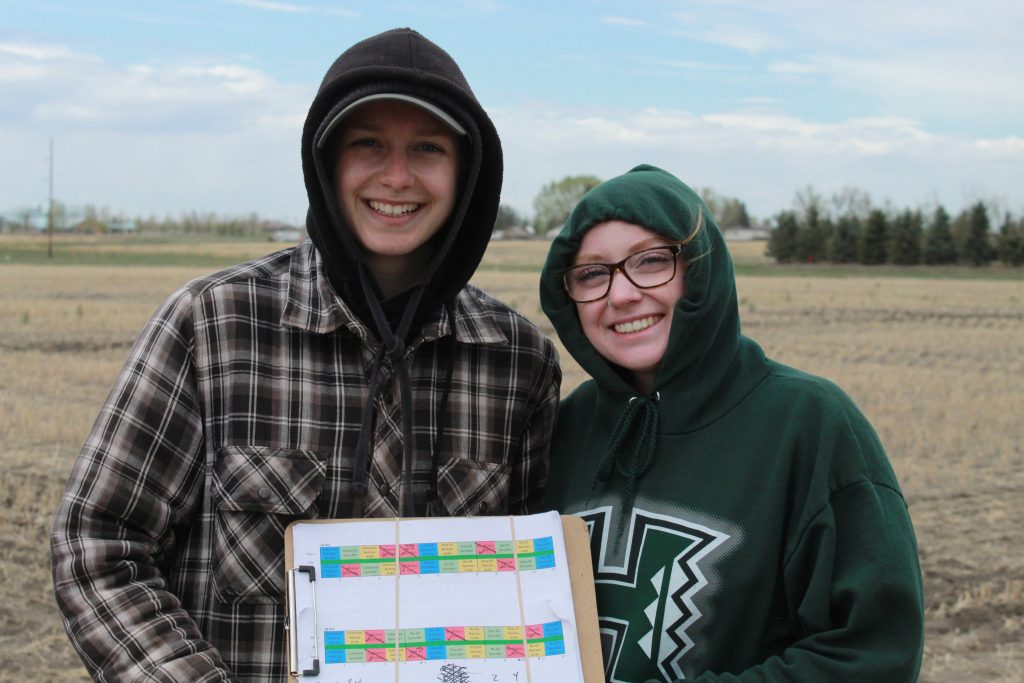 Emma plans on finishing her nutrition degree and becoming a registered dietician. Other than seeing the initial steps of food production, Farming Smarter provides her with the opportunity to work with others, and develop strong problem-solving and communication skills to help in her future.
---
Melanie:
Melanie enjoys working at Farming Smarter as it allows her to broaden her horizons in agriculture and learn more about farming practices and how they work. Currently, she is enrolled in the Agriculture Business program at Lethbridge College. This summer, she has learned more about crops and seeds than she ever thought she would. She has also developed strong interpersonal skills.
---
Morgan:
Morgan recently turned a new leaf at Farming Smarter. At the start of the summer, she wasn't certain about her future - now, she's fallen in love with data research. Her favorite part of the job is that every day is new and exciting. Aside from a new-found appreciation for research, Morgan found new limits for her patience at Farming Smarter. While every day is a new adventure, sometimes that adventure is equipment breaking down in the middle of a field, but Morgan knows how to take it in stride and still have fun!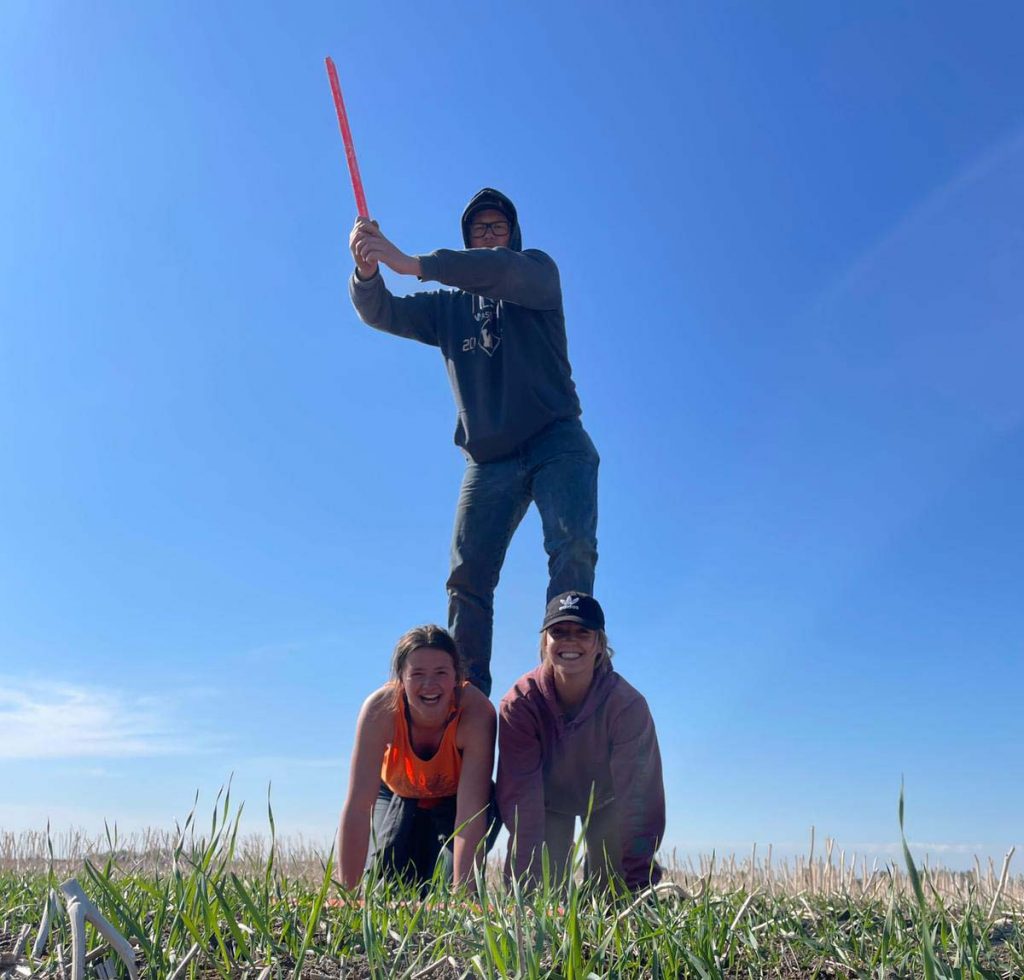 ---
Ryan:
Ryan planned to finish his Bachelor of Agriculture Science at Lethbridge College and return to run the family farm. Now, he might just run off to other farms as a professional agronomist! At Farming Smarter, Ryan spends each day doing what he's interested and passionate about ≥ something he thought would only happen when he returned to the farm. He's thankful for the opportunities to learn and grow as a professional and can see himself helping other farms before returning to his own.
---
Sara:
Sara is a familiar face at Farming Smarter and a valuable asset to the Farming Smarter team! This year, she took on more responsibility in the field, seeding her own trials. Additionally, she helped teach all of the first timers ≥ which she was more than happy to do as she's working towards becoming a teacher! Throughout her time at Farming Smarter, the best skill she's learned is how to do a task with none of the necessary tools.
---
Tal:
Hoping to get into the prosthetics industry after finishing her Kinesiology degree at the University of Lethbridge, Tal finds value in Farming Smarter's ability to force problem solving and creativity on its field staff. Going so far as to develop a list of lessons she's learned over her time at Farming Smarter, Tal is thankful to develop her creativity and problem-solving skills almost daily.
Here's a taste of Tal's List of Lessons:
Better to be overprepared than under, always.
It sucks thinking you won't need a tool, getting out into the middle of the field, and finding out that you did in-fact need that tool
When things don't work out, that's not an excuse to quit
How to do things that you don't feel like doing

We're beyond thankful for all the hard work our students put in over this summer. We are excited to see how ag-professionals careers develop!