Farming Smarter employees got their hands dirty with their most recent foray into the world of soil as they began preparing for the Deep Banding of Immobile Nutrients project.
They began soil sampling at four different depths to test the different nutrient levels that are already in the ground.
The group extracts ten cores from varying locations in a strip of land, divides the different depths and mixes like-depths together. This is meant to give them an accurate representation of the entire length of the test plots.
Next, they package the samples and send them to Down To Earth Labs for tests for N, P, K, S, Cu, soil PH, organic matter and texture.
Testing soil fertility can provide insight that allows farmers to better manage the nutrients that were removed form the previous crop and get recommendations for this year's crop.
The Deep Banding of Immobile Nutrients project will span three years and hopes to discover whether placing nutrients under the first six inches of soil will reduce nutrient stratification while improving nutrient uptake and crop production. One-time deep banding of three times the recommended rate at the beginning will be compared to annual shallow banding (current practice).
No till practices usually involve banding fertilizers less than 2" deep with the phosphorus or nitrogen as farmers are seeding.
There is a lack of information on deep banding (5-6") in Alberta soils and crop growing conditions, where relatively moister soil conditions at seeding time are followed by relatively drier soil conditions in the following months.
SARDA Research Association will also conduct this project in Falher, AB.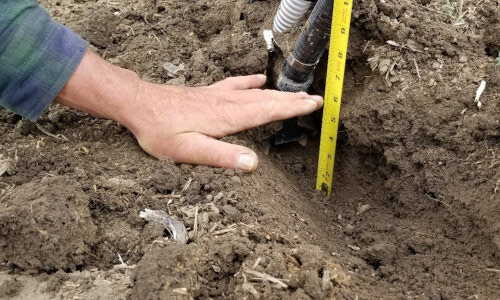 Friday, December 31, 2021
2018-2021
This study determines if the periodic deep banded application of immobile nutrients (P, K & Cu) can reduce nutrient stratification while improving nutrient uptake and crop production on land previously under direct seeding for >10 years.