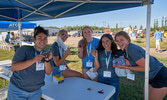 Saturday, Farming Smarter hosted 347 visitors at our Open Farm Day. We opened the farm for a day full of family fun as our contribution to the province-wide Alberta Open Farm Days initiative.
August 13, we gave people an unforgettable agricultural experience. We're happy to say this was our biggest event yet! We couldn't have done it without the support and cooperation of our sponsors and partners.
Open Farm Days is all about getting the public out to experience agriculture and learn more about food production. With food security a common talking point in today's climate, people are more driven to learn about agriculture. We wanted to provide the community with that opportunity at this year's event.
As always, visitors enjoyed the wagon ride through our research crops, but this year we hosted a Living Labs adventure that rivalled its popularity. We sent participants around the grounds to visit booths and learn about aspects of agriculture. Once they earned five stickers, they earned a prize.
Our adventure included 1st Choice Savings as our Agri-Finance & Business Centre sponsor and Oldman Watershed Council created a phenomenal Community Learning Centre.
Friends Scott Gillespie, Plants Dig Soil, Christine McKee, Alberta Canola director, and Rob Dunn, Farmwise Inc., populated our Crop & Science Learning Centre. New Way Kubota, Hanlon Ag, Vanee Farm Centre, and Western Tractor showcased equipment in our Equipment Learning Centre.
And that's not all! Every good event has great food. This year Volunteer Lethbridge, well, volunteered to run the BBQ and a Volunteer Fair that brought 10 more booths to the grounds!
With this event in the rear view mirror, we're left feeling accomplished and thankful for all the help and support we had in organizing this amazing event. We look forward to building off this year's event and bringing the community together next year for an even better event! Keep an eye out for Farming Smarter Open Farm Days next Aug. 12 (tentative date)!