August 23, Farming Smarter joined the celebration of an anniversary ≥ we entered the 125th Whoop Up Days Parade! And we did it to celebrate our 10th anniversary!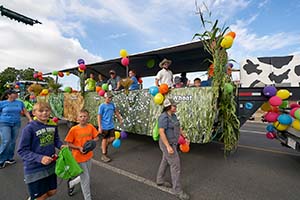 Our hardworking staff came together to create a float to celebrate the fun side of agriculture.
We entered our cabinless John Deere plot seeder, our famous people mover, and our Wintersteiger plot combine into the parade. Our people mover was decorated with crops, balloons, and a large banner of our favourite crops! This way, parade-goers would see us "seeding the crops" before harvesting them.
We aren't certain whether people got that idea from our float or not, but we know we had a great time making it!
It was a blast to take part the excitement, this is the first time Farming Smarter has done a parade float. We hope it won't be the last!
As part of our goals set this year, Farming Smarter plans to invest more heavily into community advocacy. While we participate in community-focused events like Open Farm Day, we want to find more ways to expand our reach and further involve ourselves in community events like the Whoop Up Day Parade!
So, keep an eye out for us at future events! Let us know if you saw our parade float, send us a photo on Twitter or Facebook!