B. Sc. Agriculture from U of A
Will Van Roessel became a Board Director in March 2021. Will and Jean, his wife, operate Specialty Seeds Ltd. in Bow Island. The farm grows seed under contract and for wholesale and individual farm sales from the Bow Island yard. Hybrid canola is its largest crop but also hemp, quinoa, hard red spring wheat, yellow peas, durum, hybrid rye and recently hybrid sunflower.
Will says that since joining the board, he noticed that Farming Smarter has many funding seeds. He wants to gain a good understanding of them - what they fund and for how long because he's noticed that the funding sources directly impact planning for projects and growth.
"The wide variety of funding Farming Smarter accesses and the specific uses of those funds takes a while to understand. I'd like to learn more about that and see if they can be a little more stable in the future," Will says.
He hopes we can work out long term funding to enable longer term projects and allow Farming Smarter to become the best-respected, farmer-driven research group in Canada.
"There's a lot of uncertainty from year to year because of funding," he says.
Sitting on the boards of Alberta Soft Wheat Growers and Alberta Pulse Growers Commission, even serving as president for two years, let Will understand the limitations small, unstable funding can put on an organization.
Will Van Roessel remembers the early years of the pulse commission when money fluctuated year over year.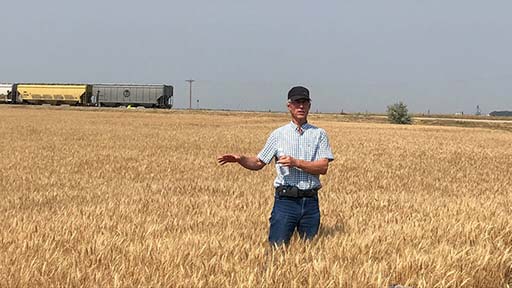 "There was maybe 40k acres of beans and 100k of peas and lentils in the province. Now it's several million acres," he notes, which gives the commission the ability to plan long term.
While figuring out funding is his priority, he brings expertise and experience growing irrigated and novel crops to board discussions. Through work on his own farm, he's explored adapting some novel crops to southern Alberta production systems.
"We started growing hemp 12 years ago when there wasn't much hemp growing in southern Alberta," he says. His farm experimented with agronomic practices and followed the research taking place at Farming Smarter.
"We definitely grow hemp differently in southern Alberta than the rest of the prairies. We learned to grow hemp with our winds and different weather conditions than they deal with in Manitoba for instance," he says.
He's followed the work of Farming Smarter for many years. Will remembers attending the Diagnostic Field Schools that impressed him because he could see the amount of organization and planning it took to put the sessions together.
"All those plots had to be planted and have things done to them months before the actual field day to show people the results they wanted to see."
That's the dedication to southern Alberta farms he appreciates.