This year, our Custom Research team is the biggest it's ever been!
Unfortunately, that means they're too busy to celebrate it.
With more than 100 trials on the go, our Custom Research team, led by Trevor Deering, is hard at work harvesting. Thankfully, only 65% of their trials need to be harvested for samples! The trials which yield samples aren't taken from primarily consist of herbicide trials, which don't require seed quality analysis and instead investigate if the chemical decreased yield.
Due to the number of trials our Custom Research team has, they have had the opportunity to work with a large variety of crops this season.
"This year, we had a variety of winter crops, lentils, peas, and the usual winter oats, barley, and wheat. We have these in spring varieties as well," says Deering.
Outside of the winter hardiness trials, we also have trials on corn, canola, mustard, sunflower, camelina, and poppies.
While the workload is intense, the Custom Research team can manage it with expert planning.
"Harvest is nice for us; we plan and account for overlap between trials. The variety of crops means everything will be ready at different times so we can create a streamlined plan," Deering adds.
This plan usually starts with pulses and steadily continues until the last corn trial is harvested. Deering credits this "hierarchy of harvest", that helps to spread the workload between trials, for the successful harvest seasons.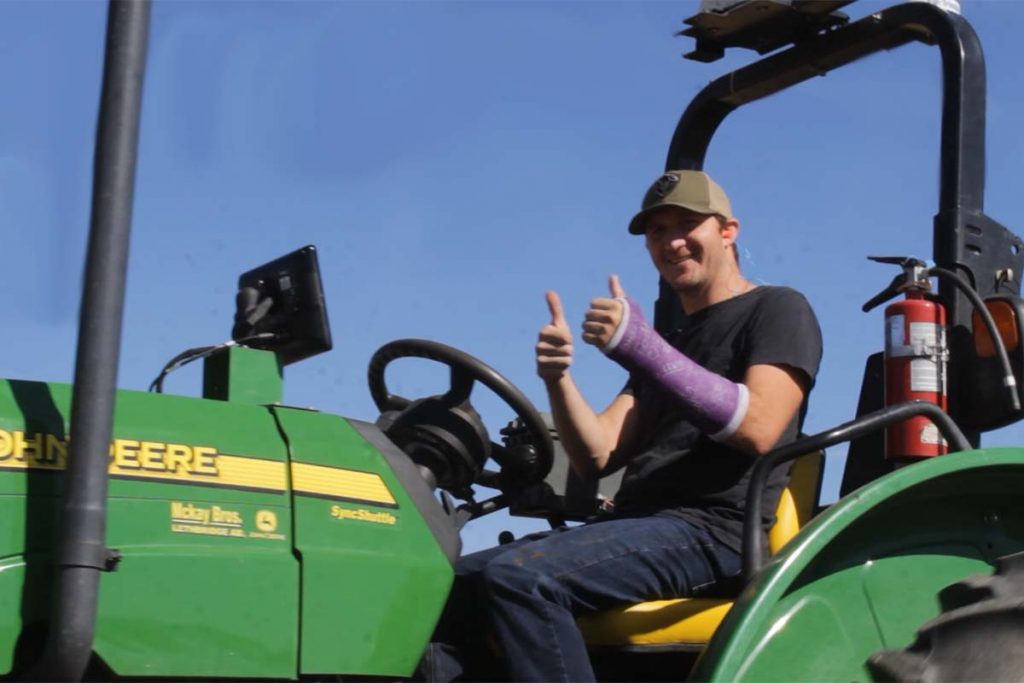 The Highs and Lows of Harvest
Being such a busy season, it's easy to get overwhelmed during harvest. It's important to take the time to appreciate the little things throughout the season.
For Deering, the satisfaction of taking a crop off to finish a trial does just that.
"The feeling you get when you can see you're done is incredible. It makes it all worth it."
However, the road towards the goal is long and littered with obstacles. With harvest, weed presence and broken equipment are obstacles we are all too familiar with. And the logistics that come with managing more than 100 trials doesn't lessen the burden by any means.
"Logistically, this year is a challenge. Trying to balance the tasks we need to get done unrelated to harvest and set up crew and times for harvest was an important obstacle we needed to overcome."
Thankfully, we doubled our fleet size last year by acquiring our Quantum combine! Deering, and the rest of the field crews, have dubbed the addition a 'lifesaver' with the total number of trials we are harvesting. However, we still found ourselves needing to borrow combines from our friends!
Regardless of the equipment, Deering says the biggest challenge he has during harvest is harvesting the weed trials. Not only is the risk of getting dirty seed a constant stressor, but so is the increased risk of damaging equipment.
Due to the usually hardier nature of weeds, kochia especially, combines can plug easily and stall operations. For our field crew, these trials can be a stark reminder of the importance of early weed management.
Harvesting Wisdom
Deering's three tips to a successful harvest are, "planning, planning, and planning ahead." Additionally, he stresses the importance of recognizing that your plans will change throughout the season. A flexible plan is key!
To draft the best plan, you need to know what's going on in your field. Scouting early and scouting often is the best way to stay on-top of those changes and gives you the opportunity to spot them before they're a problem.
Also, it's helpful to recognize which crops can wait before they need to be harvested. For example, wheat has the luxury of holding onto its seed even after it's harvest-ready which means it can be prioritized after a crop like peas or canola ≥ both of which will begin to lose seeds much faster than wheat.
"Knowing which crops to prioritize and planning ahead are two important pieces of a successful harvest," says Deering.
What's Next for The Custom Research Team?
Alongside harvest, our Custom Research team is getting underway with their fall seeding. Once harvest wraps up, they'll be busy maintaining winter trials. In the meantime, they have a lot of harvest to complete and a lot of winter trials to prepare for!