Background

Large scale, energy-intensive agricultural production in the Canadian Prairies leads to exhaustive removal of soil carbon (C) and nitrogen (N), loss of soil structure, high soil erosion, and high greenhouse gas (GHG) emissions linked to climate change. Improving the organic matter (OM) content of soils is expected to reverse these processes by improving soil health and productivity, reducing soil erosive potential, while drawing down atmospheric CO2. However, annual cropping systems have been selectively engineered to allocate maximum plant C to harvestable parts such as seeds and fibers. Thus, a minimal amount of C in the underground root system and aboveground residues is returned to the soils. This program will target the adoption of innovative management practices that maximize biomass retention and OM content of agricultural lands in Canada.

Crops such as potato, sugar beet, and dry bean are harvested late in the season, have high levels of soil disturbance and leave little crop residue to protect soils from fierce Alberta winter winds. This program will develop innovative practices that enable better soil conservation and C sequestration while maintaining producers' ability to compete in the global market.

Project Details

Timeline
2022-2026
Principal Investigator:
Dr. Gurbir Dhillon


Farming Smarter

Project Contact:
Dr. Gurbir Dhillon
Funded By:

Weston Family Foundation

RBC Tech for Nature
Project Objectives
Develop best management practices to reduce soil erosion and enhance soil health by increasing organic matter
Evaluate adoption of best management practices that improve soil health in southern Alberta
Methods

Eight research trials will be conducted at two locations in southern Alberta for the 4-year period.

Experimental design - Split plot design with four replicate plots

Collaborators or Locations

Bow Island, AB
Lethbridge, AB

Treatments

Main plot – Cover crop management – a) Living mulch system where CC are suppressed through strip tillage in crop rows prior to main crop sowing but maintained as living mulch in the inter-rows for major part of the growing season; b) Cover crop terminated by traditional approaches (herbicide + disking) before main crop seeding; c) No cover crop control.

Subplot 1 – Planting density – Two planting densities (high and low) for cover crops. The planting density influences living much competition with the main crop, biomass production, and weed suppression.

Subplot 2 – Main crop – a) Corn b) Canola c) Dry bean. The crops will be grown under irrigated, wide row (38 cm or more) conditions, which provide maximum likelihood of success for inter-row living mulches (due to higher availability of resources such as water, sunlight, and nutrients) and can benefit highly from this practice due to higher erosion potential and less nutrient use efficiencies associated with these systems.

Fall rye will used as the cover crop for dry bean crop. A cover crop mix of fall rye and winter pea will be used for as cover crops for corn and canola main crops.



Measurements
| | |
| --- | --- |
| Cover crop planting density, above ground biomass, tissue C and N content | Soil moisture and temperature |
| Soil nutrient supply estimates using plant root simulator probe | Weed density and aboveground biomass |
| Seedling density, aboveground biomass, and grain/seed yield for main crop | |
Results
Sign in or subscribe to view.
Articles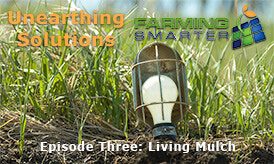 Saturday, August 5, 2023
Gurbir Dhillon and Mike Gretzinger sit down to discuss the Living Mulch trials in our Saving Soils project. These inter-row cover crops improve soil health and increase in-field biodiversity.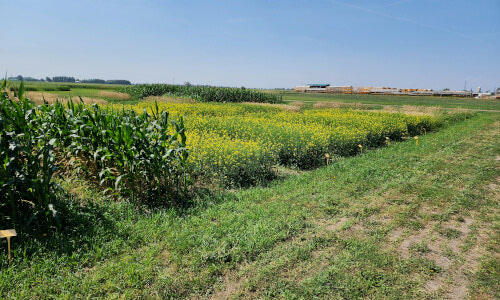 Friday, July 21, 2023
As part of the Saving Soils initiative funded by Weston Family Foundation and RBC's Tech for Nature grant, Farming Smarter is studying the efficacy of cover crops as living mulch for spring seeded cash crops.