Project Abstract

Flea beetles are one of the major canola pests in Alberta. Currently neonicotinoid-based seed treatments are often used to protect canola seedings from flea beetle damage. Therefore, PMRA's recommendation to phase out the use of neonicotinoids has caused much concern for growers.

Without these seed treatments different control mechanisms must be considered by growers, such as alternate seed treatment, increased seeding rates, or foliar insecticides. These activities may have negative environmental consequences, will incur increased production costs, and may be less effective than current strategies.

This project aims to evaluate the best available alternative agronomic practices using rigorous on-farm research. A series of field scale trials established across Alberta will assess these alternate practices with a focus on efficacy, environmental effects, and impacts on production.

Project Details

Timeline
2020-2022
Principal Investigator:
Lewis Baarda


Farming Smarter

Project Contact:
Lewis Baarda
Funded By:

CAP (75%), Farming Smarter (25%), AAFC, CCC, U of M

Collaborating Researchers:

Hector Carcamo AAFC, SARDA Ag Research
Project Objectives
Assess the potential for increased seeding rates as a cultural tool to mitigate losses from flea beetle damage
Assess the best alternative seed treatments at standard and high seeding rates
Assess benefits or losses associated with additional foliar applications and confirm threshold recommendations and their impact to beneficial insects
Quantify the potential losses to farmers incurred by the loss of neonicotinoids
Methods

Collaborators or Locations

Northern Alberta x2 sites
AAFC, SARDA - Fahler, AB
Southern Alberta x2 sites
Farming Smarter - Lethbridge, AB

Treatments

FST = Fungicide Seed Treatment,
IST = Insecticide Seed Treatment

FST + IST at 100 seeds/m2 WITH & WITHOUT foliar insecticide

FST at 100 seeds/m2 WITH & WITHOUT foliar insecticide

FST at 200 seeds/m2 WITH & WITHOUT foliar insecticide

Insect monitoring conducted with insect counts via sticky card insect traps, as well as plant damage assessments at cotyledon stage and at 2-leaf stage.

Grain yield and 1000-kernel weight were measured at harvest



Lethbridge crop rotation will be wheat, canola, durum and then pea.
Four field scale on farm research trials were completed in each 2020 and 2021. Two were located in southern Alberta, and two were located further north, and were facilitated by SARDA. The site is placed near the edge of the field whenever possible - where flea beetle risk is greater. Plot size is determined by the field and the equipment that is available.
Measurements
| | |
| --- | --- |
| Background soil fertility (temp, moisture, physical characteristics) | Emergence and plant density |
| Flea beetle counts via sticky cards | Flea beetle damage ratings |
| Canopy closure at solstice | |
| Yield (collected with weigh wagon as well as geo-referenced yield) | |
| Collected seed samples to assess seed quality (protein, oil content, green seed, etc.) | |
Results
Flea Beetle Damage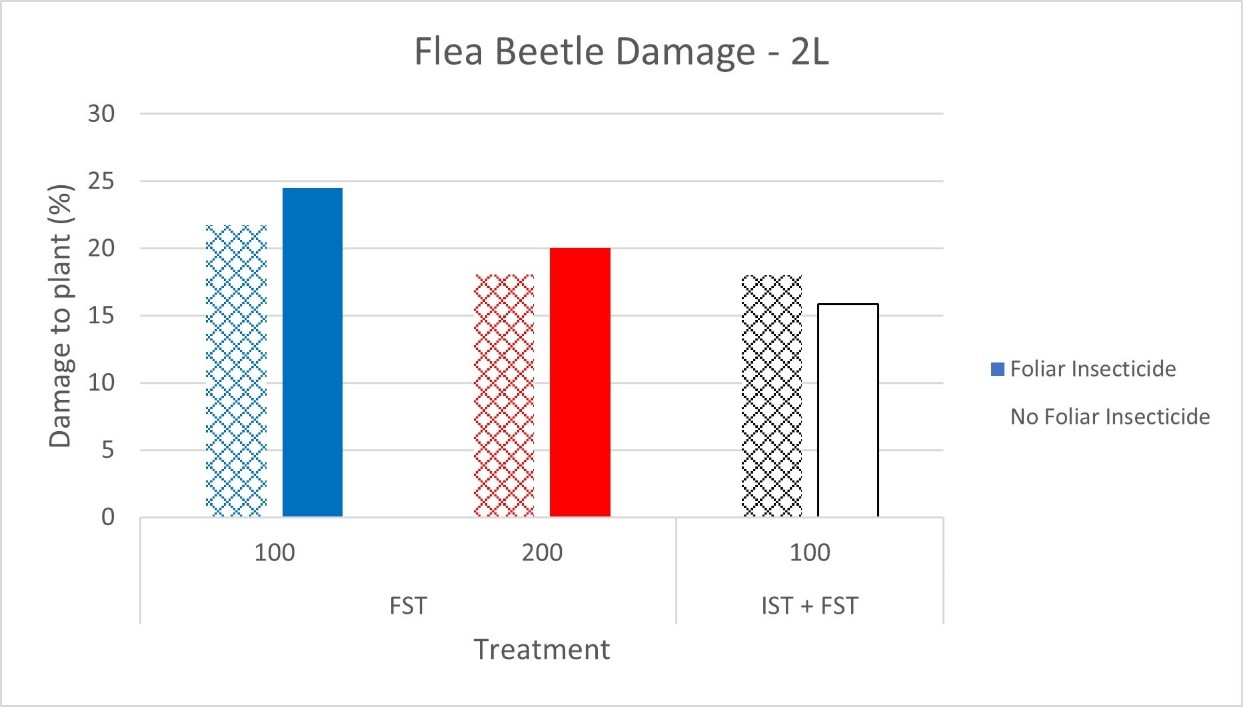 Flea beetle damage: Has been lowest where seed treatment insecticide has been used; Has been lower where foliar insecticide has been applied on seed without insecticide.
Yield Effects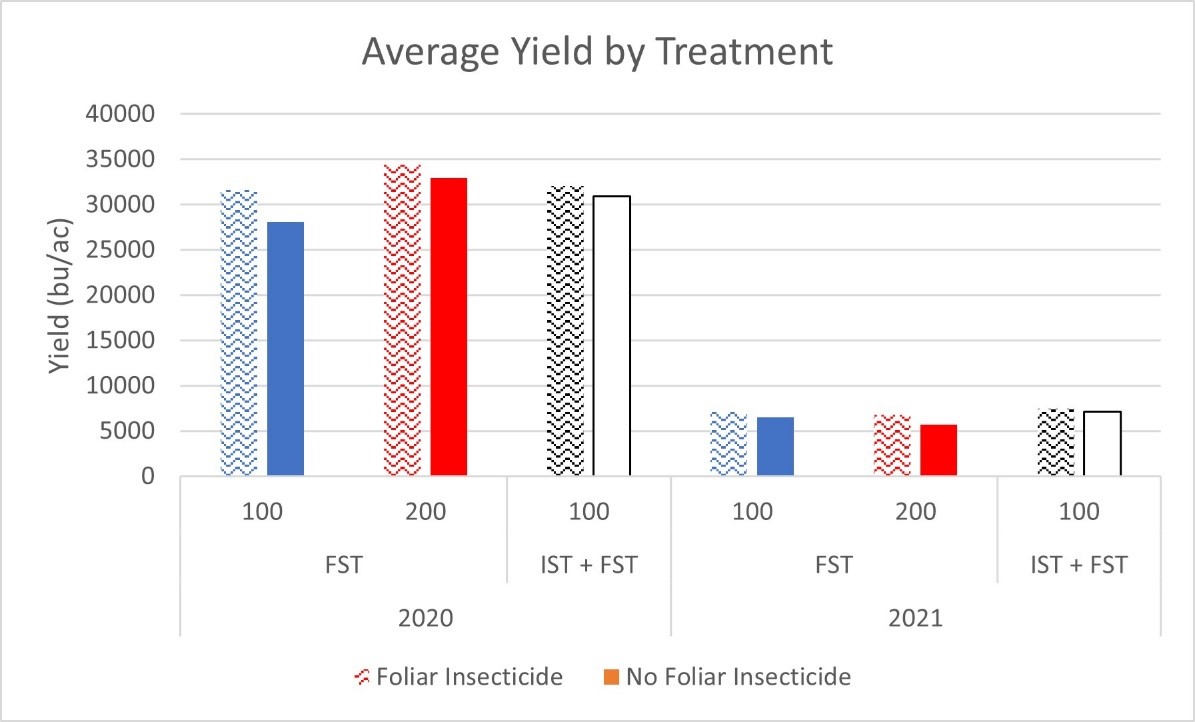 Much lower yields in 2021: Both foliar and seed treatment insecticides appear to protect against yield losses; Using a higher seed rate appears to have protected against yield loss in absence of seed treatment insecticide.
Articles
Friday, October 29, 2021
As public pressure increased against the use of neonicotinoids in agriculture, we wanted to plan for the worst-case scenario. In 2020, we set out to evaluate potential losses and test the best available alternative management strategies to mitigate loss.
Friday, May 21, 2021
The two main species of flea beetle pests in canola are the crucifer (P. cruciferae) and the striped flea beetles (Phyllotreta striolata).
Wednesday, July 22, 2020
Canola growers will want to follow Farming Smarter's research into effective ways to combat flea beetles on canola without the use of neonic pesticides.