By Zach Lalin
Lethbridge College DCM practicum student
Join a Farming Smarter event this summer and explore the research projects while connecting with fellow farmers and stakeholders in the agricultural community.
These events showcase the latest advancements and practices in crop production through small plot and field scale research projects taking place in southern Alberta.
The first event is the Field School June 15. Participants will learn about the Farming Smarter Saving Soils project, cover crops, strip till canola, residue management, row crop fertility and disease diagnostics.
A special event in Lethbridge, on June 22 will introduce some new collaborations to support irrigation crop producers. This day will be about soil and nutrient strategies for high value crops and include nutrient management, cover cropping, winter crops or dual cropping. Participants will have time to network and share their own experiences.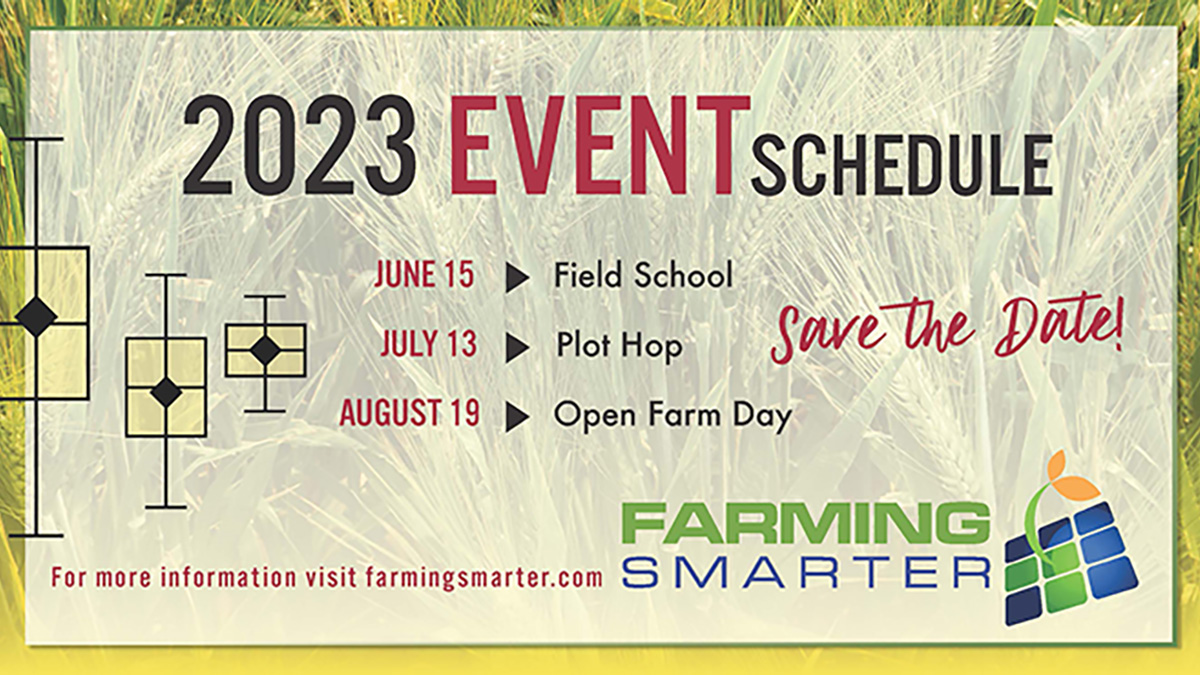 Image Caption: The 2023 Summer Event Schedule at Farming Smarter - don't miss these great agronomy research events!
The July 13 Plot Hop features AAFC weed expert Dr. Charles Geddes, U of Sask. professor Randy Kutcher talking crops disease and Dr Linda Gorim from UofA will cover enhanced efficiency fertilizers (EEF). Farming Smarter researchers will tour participants through existing research plots.
Ken Coles will show the Maximizing Barley Yields While Minimizing Lodging. Dr. Gurbir Dhillon will tour the living mulch trial that is part of the Saving Soils project. Trevor Deering will showcase current projects in rolling cereals.
Continuing the event series, a bus tour July 27 will visit innovative farms where forward thinking producers conduct field research or implement novel practices in their operations. The tour will focus on the diversity and creativity of farmers in the region and recognize their contributions to the agricultural sector.
Concluding the summer events, Farming Smarter throws open its doors for Open Farm Day August 19. This event invites non-farming public to visit Farming Smarter's main site just outside Lethbridge. They will get an up-close look at the farming facilities, equipment, and much more through the partner booths. EQUS will run the barbecue this year and several groups already committed to feature interactive activities, displays, and presentations suitable for all age groups.
Farming Smarter's events are open to anyone interested in gaining knowledge about agriculture and its impact. While events require registration, it can be conveniently completed online or by phone. For further information, visit the event pages here on Farming Smarter's website.
Find all these events at https://www.farmingsmarter.com/latest-events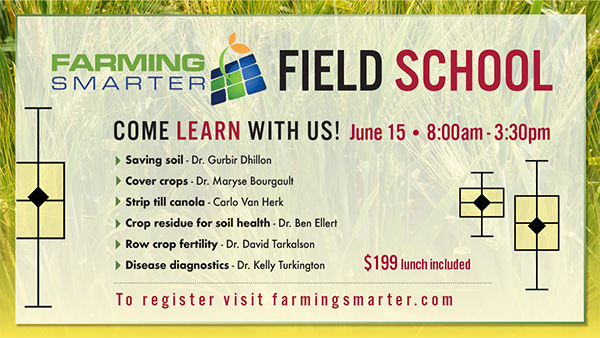 Come learn how to protect and improve your operation June 15!