Background

Initial proven concept that ultra-early plantings of hard red spring wheat is a viable strategy that, at a minimum, maintains yield potential and increases yield stability. Opinions of the viability of such a management strategy for CWAD appears mixed as some consider durum to have weaker vigor and therefore not suitable to an ultra-early system. We know of growers either experimenting with dormant-planting CWAD in the fall or wanting research to inform their practices.

This study will clearly identify the risks and benefits (in terms of crop stand establishment, yield, and quality) associated with ultra-early plantings of CWAD in western Canada over a wide range of climatic conditions, including dormant-seeded situations. It will also identify genetic variances to this seeding system. As grain yield is positively associated with maturity or growing degree day requirements, it is possible that attainable yields can be maintained or even exceeded with early-seeded, cold tolerant spring wheat.

Project Details

Timeline
2021-2024
Principal Investigator:
Dr. Brian Beres


AAFC

Project Contact:
Mike Gretzinger
Funded By:

Saskatchewan Wheat Commission
Project Objectives
Determine if crop phenology and yield component responses differ between CWAD and CWRS wheat cultivars when planted into a range of soil temperatures
Determine conventional CWAD and cold tolerant durum wheat responses to manipulations made to the agronomic system in which they are grown
Methods

Experiment 318

Factor 1: Cultivars (5)

CT-CWAD1 (CDC Defy)
CT-CWAD2 (Stronghold)
CT-CWAD3 (AAC Donlow)
Transcend
CDC Desire

Factor 2: Planting Date (6)

Soil temp in top 5 cm = 0

° C

Soil temp in top 5 cm = 2

° C

Soil temp in top 5 cm = 4

° C

Soil temp in top 5 cm = 6

° C

Soil temp in top 5 cm = 8

° C

Soil temp in top 5 cm = 10

° C

Experiment 319

Factor 1: Cultivars (3)

CT-CWAD1 (CDC Defy)
CT-CWAD2 (Stronghold)
Transcend

Factor 2: Seed Depth (2)

2.5cm depth (approx. 1")
7.5cm depth (approx. 3")

Factor 3: Planting Date Trigger (5)

When soil temp in top 5 cm = 0 - 3

° C

When soil temp in top 5 cm = 5

° C

When soil temp in top 5 cm = 7.5

° C

When soil temp in top 5 cm = 10

° C

Dormant-seeded (November-January soil temps at 2" should be ≤ 0- 2

° C



Measurements
| | |
| --- | --- |
| Crop emergence and plant counts: stake & count | |
| Confirmation of seed depth - Test 319 only | Early - (Zadoks 31) and late-season (Zadoks 37) vigor |
| | |
| | |
| | |
| Grain quality: % protein and test weight | |
Results
Will be shared when recieved from Dr. Brian Beres.
Articles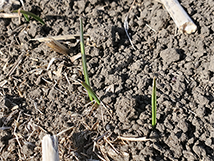 Friday, April 8, 2022
This spring, Farming Smarter is looking at the effects of ultra-early seeding on durum, in collaboration with Dr. Brian Beres. We're excited to be a part of this study as it builds off previous research, done by Dr. Beres...
Friday, July 30, 2021
Precision planted durum trials test the effects of agronomy tools on the yield of irrigated durum. We test precision planted versus air seeding planted plots; different seeding and nutrient rates; varying row spacing; and more.