Project Abstract

The study will assess management zones for variable application of nitrogen fertilizer based on 5 years of previous yield maps and soil sampling. Complementary analyses will be done with landform analysis and soil sampling.

Zones will be further assessed in relation to aerial/satellite photos and analysis of elevation data and terrain derivatives at the end of the study. The project will assess variable rate nitrogen management with respect to development of management zones.

Project Details

Timeline
2014-2017
Principal Investigator:
Alan Moulin


AAFC Brandon

Project Contact:
Lewis Baarda
Funded By:

Canola Council of Canada & Farming Smarter
Project Objectives
Zones will be further assessed in relation to remote sensing data and analysis of elevation data and terrain attributes at the end of the study.
Complementary analyses will be done with landform analysis and soil properties.
Assess management zones for variable application of nitrogen fertilizer based on 3 to 5 years of previous yield maps combined with pre-seeding soil sampling and soil test recommendations.
Methods

Collaborators or Locations




Alberta
Saskatchewan
Manitoba

Treatments

Randomized and replicated design was established with four fertilizer treatments in each of three management zones on two trial sites (1 per field) per producer.

Control - no nitrogen fertilizer

100% of recommended N for field across all management zones

N based on variable rate in 3 management zones based on 5 years of yield data; covers a range of upper, middle, and lower landforms

50 and 150% N fertilizer based on management zones derived from yield data alone



Management Zones
Yield maps collected for fields over a 5 year period prior to the study, were analyzed with statistical and SMS GIS software to identify areas which have high and very high normalized yields average normalized yields and low and very low normalized yields. Three management zones delineated with high and very high areas in the high zone, average area in the average zone and low and very low areas in the low zone. These zones were the basis for the prescription maps. Fields for the study were selected based on this analyses and showed 3 distinct zones.
Eight strips (25 to 50 m in length), 2 for each of 4 treatments were located in each of 2 fields seeded to the same crop in the annual crops rotation. Fertilizer rates were based on soil test data for each of the zones in the treatments. Maximum rates were for highest possible yield in the recommendations. 50 % rates assessed in upper and lower/depression zones. In the event fields had little residual soil test N, fertilizer rates were set at 50, 100 and 150 lb per acre at randomly locations within each strip.
Four rates of N fertilizer (0, 50, 100 and 150% recommended rate) were applied within two randomly located replicates in 2 trial sites (4 replicates total) per field (Figure 4). Fertilizer rates were based on soil test NO3-N analysis from the previous fall, and the corresponding target yields for the crop seeded that year (MAFRI 2009a).
Sites were a minimum of 120 feet wide with 4 treatments on each of the management zones. Boundaries of field scale plots will be geo-referenced. We may have to adjust the size of the 0 rate strips to accommodate producers. Phosphorus and other plant nutrients will be added at uniform rates based on soil test analysis for yield goals in the management zones.
Results

| | |
| --- | --- |
| | |
| Fig 1. Yield response of canola to fertilizer treatments in management zones | Fig 2. Yield response of canola to fertilizer treatments in management zones |
Yield and N removal tend to be highest in the high yield zone with 150% of recommended fertilizer rates. However these trends were not statistically significant (Figures 1 and 2) and additional site years of data were required to assess the effects of zones and fertilizer management.
Canola yield increased with fertilizer rate in an overall trend combined across 7 fields in 2014 (Figure 3). Yields were lowest in the low producing zone, intermediate in the average, and highest in the high, reflecting the spatial trend in production (Figure 3).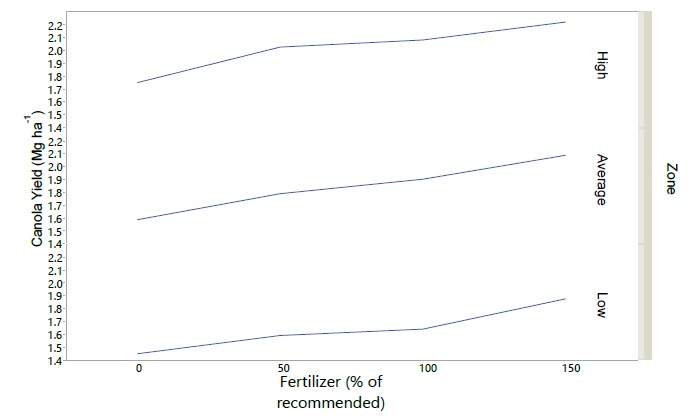 Fig 3. Yield response of canola to fertilizer treatments in management zones averaged across all fields in 2014
There was considerable variability between fields with respect to the response of canola yield to management zone and fertilizer treatment (Figure 4). Interactions between management zone and fertilizer treatment varied between fields, as canola yield responds in some fields and not in others.
However there was a clear statistically significant differences in fields AB1, AB2, and MB1between the 0 rate and the 50, 100 and 150% recommended fertilizer rates in analyses with plot type statistical analysis (ANOVA) and big data analysis (Figure 5). Statistically significant differences between 50, 100 and 150% rates were less frequent and often influenced by interactions with zone and field (Figure 4).
| | |
| --- | --- |
| | |
| Fig 4. Canola yield by fertilizer treatment, management zone, and field | Fig 5. Number of splits for partition analysis of canola yield for fertilizer treatments, management zones, and fields |